Baseball players from the 1800s
Check out this awesome slideshow of photos of baseball players from the 1800s. The uniforms and poses stand out, along with the devotion to handlebar mustaches.
Comments Off on Baseball players from the 1800s

Posted in: Grooming, Old School
Tags: baseball, baseball mustaches, baseball players, best mustache, classic handlebar mustaches, classic mustaches, cool mustache, great mustaches, handlebar mustache, mustache, mustache photo, mustaches in history, old-school mustache, sports mustaches

By Michael Rovner for Style + Tech For Men
Now that the full-beard trend is going the way of the goatee, the mustache is getting more face time with trendsetters. So how can you wear one without looking like a cheese ball?
The truth is, not every guy can. But it can be a powerful accessory and it works well with some of the looks we've being seeing on the runways, such as at Tom Ford and Ralph Lauren.
Says Dr. Aaron Perlut, chairman of the American Mustache Institute (an advocacy group, think tank and community center — who knew!) and America's foremost expert on mustaches: "There really is no best style. It's more about the image you'd like to portray."
So, broadly speaking, you have choices. If you're going for an elegant look, opt for the handlebar, as worn so well by mustachioed luminaries like baseball great Rollie Fingers and art-world legend Salvador Dali. This look is high-maintenance with regular waxing required, but if you have the time, it's worth it. A more macho look can be achieved with the Fu Manchu, as seen on Hulk Hogan or baseball legend Goose Gossage.
More common these days is the Chevron, which stays above the corners of the mouth. "You see this on 97 percent of cops, as well as Tom Selleck and Burt Reynolds," says Perlut. "It's very popular in blue-collar circles."
Whatever look you choose, just make sure you have the cajones to pull it off. As Perlut says, "If you're going to wear a mustache, don't expect support from those around. It's about self-confidence. You've got to be able to walk down the street and karate-chop someone for no reason and then go eat a panda steak."
Michael Rovner Michael Rovner has written for Vogue, Esquire, and Details. He has been on staff at WWD, Star Magazine and Life & Style. He has also covered fashion and style for the New York Post and The New York Times magazine.
European beard and moustache championships showcase the world's finest facial hair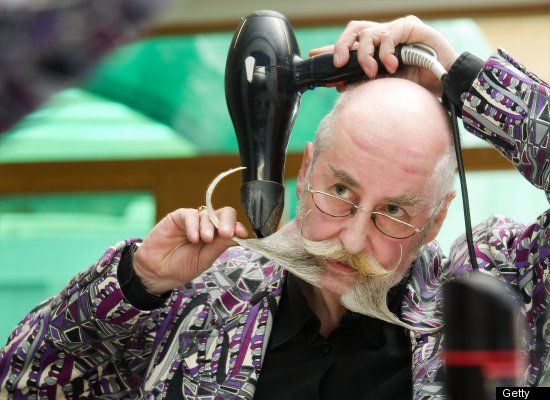 Of all the competitions in the world, the Beard and Moustache Championships have to be among the strangest. Men gather from all over Europe to show of the craziest facial hair styles you will ever see.
This year, Austria played host to the Beard and Moustache Championships for Europe. The contest drew approximately 150 participants who then competed in categories such as "Freestyle Beard" and "Natural Moustache."
As you can see, there were some truly wild participants in this year's championships. How often do you get to see a man sculpting his facial hair with a hairdryer?