Bullz-Eye reviews the 2010 Infiniti G37
Few cars have had the lasting industry impact that the Infiniti G series has produced. Our boys at Bullz-Eye.com recently had a chance to test drive the 2010 Infiniti G37 Convertible Sport 6MT, and they came away as impressed as you'd expect.
Of course the car is gorgeous. It's got sleek lines, a fantastic interior replete with a Bose sound system, but we know what you're really after. Performance:
Our G37 MT had a 3.7 Liter DOHC 24-valve VVEL V6 engine that produced a smooth 325 Horsepower and 267 lb-ft torque. Gas mileage came in at 16mpg city and 24mpg highway, and could be considerably better with "softer" driving. The vehicle is a true sports car so it of course is rear wheel drive with a 6-speed manual transmission with independent front and rear suspension. The sport brakes with 4-piston front and 2-piston rear calipers are probably some of the strongest and easiest brakes you'll ever press your feet upon! We effortlessly shifted between gears and even when hitting decent speeds (cough, cough), the ride was tight with the beefed up independent suspension working like a charm. We were impressed with the handling and overall performance, but if you're looking for a soft and smooth ride in a luxury vehicle, this may not be your best option. It's a better choice for someone looking for a sportier version of a luxury vehicle.
For the full review, head over to the Bullz-Eye Cars channel.
How to Get New Jersey Men's Blow-Out Haircut
Jersey Shore is all the rage, so here are some tips on how to look like a d-list actor from Jersey.
All guy's (one's that I know anyway) love a good burger!
If you are looking for the ultimate guy's burger than look no further than the Wendy's Baconator Triple. I say the ultimate guy's burger because I can't imagine any sane woman wanting to each such a huge burger unless she was answering to a dare or a lost bet.
The Baconator Triple sports 3 1/4 lb. fresh, never frozen patties, 3 slices of cheese, 9 smoked bacon strips, mayonnaise, ketchup, mustard, 4 dill pickles, onions (4 rings), 2 slices of tomatoes, lettuce and a premium bun. All that good American dish for a staggering 1360 calories!! You also have the option of "personalizing" your Baconator for even larger stats.
Hey, Wendy's didn't create this beast for the faint of heart or those counting calories and as long as you know what you want and how to handle it this is one great burger!
Posted in: Shop Talk
Tags: 1/4 lb. fresh, a good burger, a staggering 1360 calories, counting calories, dill pickles, huge burger, ketchup, lettuce, mayonnaise, mustard, never frozen patties, onions, premium bun, slices of cheese, slices of tomatoes, smoked bacon strips, ultimate guy's burger, Wendy's, Wendy's Baconator Triple

Bullz-Eye reviews the Sportiqe Apparel Zip Up
Some days, you just need a great t-shirt, a light jacket, or a warm hoodie before you step out the door. It always helps if this kind of apparel has a slick design and a nice fit, which is why our guys at Bullz-Eye liked the line of clothing from Sportiqe Apparel so much. They recently had a chance to wear and review the Sportiqe Apparel Zip Up, replete with a design featuring everyone's favorite jam band, OAR.
Here's what Bullz-Eye had to say:
The product I tested is a black zip up with the emblem of hot band O.A.R on the front and O.A.R. spelled out on the back. The material is high quality and the fit is right on for those who are in decent shape to top shape. I say that as the zip up is form fitting and can compliment those who have a good physique (It will fit tight if you're sporting a beer gut!).
The Sportiqe Apparel line has something for everyone. With branded t-shirts and zip ups featuring food, spirits and all kinds of sporting teams, it's a great place to turn to this holiday season. Sportiqe Apparel starts at $29.99 and is available at Nordstroms, Bloomingdales, Urban Outfitters and online at www.SportiqeBoutiqe.com.
Bullz-Eye reviews McGraw Silver cologne for men
Whether or not you like Tim McGraw's music, there's no denying that he's built quite an image for himself as a man's man. He's also managed to land one of the hottest hotties around – Faith Hill. In short, the guy's doing something right (he's doing a lot right, actually), not the least of which is taking care of his hygiene.
Bullz-Eye had a chance to review the latest release from McGraw's line of fragrances for men, McGraw Silver.
The packaging caught my eye with a bold rectangular bottle that signifies Tim McGraw's country style in an urban setting. McGraw Silver has the right balance to be your everyday cologne at the right price and for all of us Tim McGraw music fans remember, "I may be a real bad boy, but baby I'm a smell good man."
For the full experience, check out the McGraw Silver review at the Bullz-Eye Blog.
European beard and moustache championships showcase the world's finest facial hair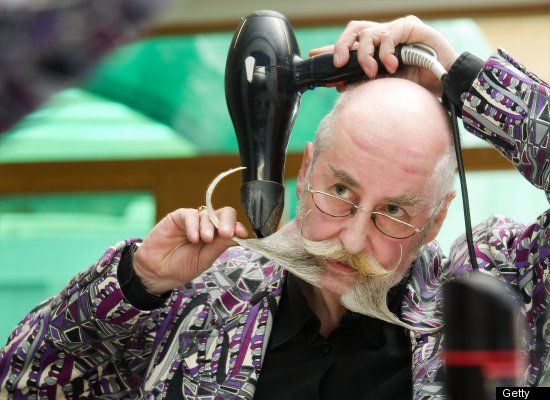 Of all the competitions in the world, the Beard and Moustache Championships have to be among the strangest. Men gather from all over Europe to show of the craziest facial hair styles you will ever see.
This year, Austria played host to the Beard and Moustache Championships for Europe. The contest drew approximately 150 participants who then competed in categories such as "Freestyle Beard" and "Natural Moustache."
As you can see, there were some truly wild participants in this year's championships. How often do you get to see a man sculpting his facial hair with a hairdryer?
Barber Roy Turner is a master of hair art
Many barbers consider their work to be art while others, like Roy Turner, leave no doubt. Turner's story is that of another talented barber turned successful businessman as owner of his own shop. While reading Turner's story you can feel the passion he has for his craft and from what I can tell, there are tons of happy customers who would agree.
After a couple of years and realizing that his business was growing, Turner started thinking about relocating to another location in the town he grew up in.

His shop couldn't accommodate all of his waiting customers, and several would pass the time sitting on the outside steps to his shop or in their cars, Turner said.

The Hammond Plaza building's owner told Turner of a space available at the strip mall, but Turner hesitated, fearing that the space would be too expensive for him to rent.

However, by his third year in business, Turner told himself to just go for it, and he opened a six-chair shop at 102 South Franklin St., where he remains today.
Keep doing what you love, Roy Turner!
Bullz-Eye reviews Pure Nautica cologne for men
It's never easy to find the right cologne. You want a scent that tells a little bit about your personality. Something subtle. Something understated. Something that won't overpower your date. You also want something attractive. No one wants to spend $50-$100 on a cologne that smells like nothing and makes little difference to the ladies.
Bullz-Eye recently reviewed Pure by Nautica, a cologne that could fulfill your fragrance needs. Here's what the review had to say:
Pure Nautica is a clean and sophisticated scent for the confident man and perfect for everyday use. Even during a long and active day and well into the evening, Pure Nautica keeps you on top of your game with a lasting and meaningful scent.
For more about the cologne, check out the full Pure Nautica review at the Bullz-Eye Blog.
Lamborghini Sesto Elemento Concept
It's hard to think of supercars as anything more than concepts. Dreams. Fantasies. They are so fast and so gorgeous it doesn't seem like anyone should drive them, let alone design them. Don't they just appear, become a gorgeous car out of thin air? The answer, of course, is no. Supercars takes years and years of design, and many of them come from concepts, just like your every day driver.
Motorcrave.com recently got hold of Lamborghini's latest concept, the Sesto Elemento (Sixth Element) and it is incredible. This beautiful, superlight beast of a machine is built with all the latest technology.
The Sesto Elemento, which means Sixth Element, uses a carbon fiber monocoque tub and carbon fiber all over–front end frame, body panels, suspension parts, rims–pretty much everywhere you look. As such, it cuts hundreds of pounds over other Lamborghinis and comes in at a featherweight 2,202 lbs. (or 999 kg if you want to be catchy). The 570-hp 5.2-liter V10 engine has no problem pushing that light, skeletal body to 62 mph in just 2.5 seconds on up to around 218 mph.
You can see more pictures of this crazy Lamborghini concept at Motorcrave.com.