Don't Have A Mustache? Get A Transplant
Sometimes, I lose faith in the internet. The endless dating sites, "Make $5,000 a week from home" schemes and of course "Get Ripped Abs In Five Minutes" pop-ups can really get a guy down.
But every once in a while, my faith is restored. Check out this headline and ensuing article- "Mustache transplants on the rise in the Middle East."
Of all the places on earth, who would think there would be a market for this over there? Doesn't every guy (and most women) over their have fantastic facial hair?
How emasculating if you didn't, hence the need.
For "Movemeber" Packers Are Pro Moustache
So what's the deal with Aaron Rodgers sweet "lady tickler", you ask? The QB as well as other members of the Packers are rocking the "Stache" this month to support and raise awareness of men's health issues like prostate cancer and testicular cancer, similarly to how October is Breast Cancer Awareness month.
Take care of your man business, and your man business will take care of you.
Reports out of Chicago have indicated the "Hipster Moustache" is BACK. People who don't even know who Rollie Fingers is are biting his style at unprecedented levels. Young white males have been swallowed up in a trend of El Nino proportions.
If you feel something scrape against your shoulder, car, bed, etc., DON'T turn around; the "Hipster Moustache" thrives on eye to eye contact and sees it as a challenge. Instead, stand completely still and let the "Hipster Moustache" pass, on its way to get another tattoo of a toaster, or dripping ice cream cone or something else that makes no sense whatsoever and will only be regretted later.
European beard and moustache championships showcase the world's finest facial hair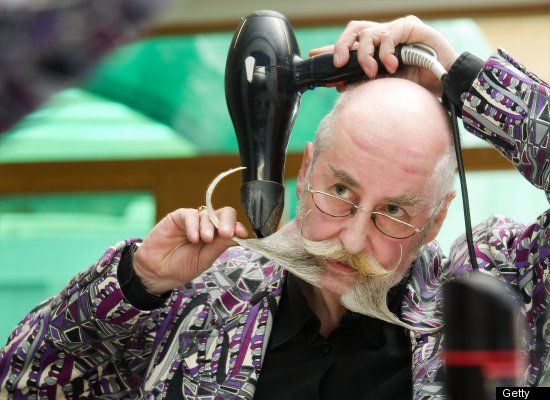 Of all the competitions in the world, the Beard and Moustache Championships have to be among the strangest. Men gather from all over Europe to show of the craziest facial hair styles you will ever see.
This year, Austria played host to the Beard and Moustache Championships for Europe. The contest drew approximately 150 participants who then competed in categories such as "Freestyle Beard" and "Natural Moustache."
As you can see, there were some truly wild participants in this year's championships. How often do you get to see a man sculpting his facial hair with a hairdryer?