Product Review: Schick Hydro 5 Assassin's Creed IV: Black Flag Holiday Gift Pack
If you were an assassin, who's the first person you would kill? If you said notable pirates in 1715, Schick and "Assassin's Creed IV: Black Flag" have your back.
For its latest product offering, Schick has teamed up with "Assassin's Creed IV: Black Flag" to produce the stealthiest men's shaving gift pack ever created. It's so stealthy that if you acquire it while playing Secret Santa, you will have no idea who gave it to you.
The Schick Hydro 5 Holiday Gift Pack contains the following components: one Schick Hydro 5 Razor, one Schick Hydro canister of Sensitive Shave Gel, one Schick Hydro 5 Travel Cap, three Schick Hydro 5 Razor Cartridges, and one code for unlockable content in "Assassin's Creed IV: Black Flag."
And because we love our readers so much, we're also giving away a copy of "Assassin's Creed IV: Black Flag" for the PlayStation 3.
Click here to enter
for your chance to win!
Read the full review at http://blog.bullz-eye.com/2013/11/17/product-review-schick-hydro-5-assassins-creed-iv-black-flag-holiday-gift-pack/#firEFimFRKuzas4Z.99
Yankess Won't Sign Brian Wilson Because Of His Beard
The Yankees need a new closer and Brian Wilson needs a job. But he doesn't want a job with the Yankees bad enough to shave his beard.
Brian Wilson's agent told Yankees general manager Brian Cashman that Wilson won't shave his beard. "Cross him off the list," Cashman reportedly said.
So, who is actually worse off as a result; the Yankees or Brian Wilson?
Product Review: Mizzen + Main Dress Shirts
When I opened the package containing the dress shirt from Mizzen + Main, I did it on a Sunday night, intentionally, because every Monday morning I go to the dry cleaner. Surely a dress shirt straight out of the mail needs to be labored over for optimal performance.
A quality dress shirt that looks good, feels great and doesn't cripple your wallet? Excuse me while I laugh my face off.
I pulled the shirt over my torso and was befuddled at how the shirt fit me so well, as I had casually requested a "large" sample. There were no previously exchanged measurements, or painstaking trips to the Men's Warehouse to act like I was buying a dress shirt in order to acquire my exact dimensions. And yet, the shirt fit my torso perfectly, with perfect sleeve length to match. It even made my biceps look outstanding thanks to the superior fit.
Posted in: Grooming, Lifestyle, New Trends
Tags: Chris Ogbonnaya, Chris Ogbonnaya Cleveland Browns, Chris Ogbonnaya Mizzen + Main, Cleveland Browns, Men's Clothing, Men's Dress Shirts, men's grooming, Mizzen + Main, Mizzen + Main Dress Shirts, Product Review: Mizzen + Main Dress Shirts

Why Should You Wear A Tie Bar? Because They're #Badass!
When you wear a suit and tie, you feel cool. It immediately steps your credibility up about 10 notches.
Babes notice. Dudes notice. Old people will tell you that you, "Remind them of their grandson."
But what if your suit really looks like shit? If it looks the way a moth ball smells? If it looks like you raided your grandfather's casket?
Accessorize, friend. Make the suit your own; improve the suit because you're wearing it.
We covered cuff links a couple weeks ago. A tie bar is the easiest thing to wear and apply; it's a clip you put on your tie.
As simple as it is, it makes you feel good and when you feel good, other people take notice.
YOU will be the guy who wears the tie bar.  And have the same effect Michael Jackson did in his video for "Billie Jean" leaving everything he touched better than when he found it.
As I stood in Arrowhead Stadium — section 125, row 33 — rocking the #83 jersey of Raiders legend Ted Hendricks, the last thing on my mind was the shave I enjoyed that morning courtesy of a razor from 800razors.com.
There I was, getting my sexuality questioned by endless Chiefs fans, in front of endless Chiefs fans in an assault befitting of Kansas City's league leading defense. But one thing that wasn't getting questioned was the closeness of the shave delivered via the five-0lade men's razor from 800razors.com.
Just like the Raiders, 800razors.com is anti-establishment. If the razor game were the AFC West, 800razors.com would be gunning for opposing pretty boy quarterbacks in Denver and San Diego. Sorry KC, outside of Joe Montana, you've never had one. From the company's site:
"Gillette — the monopoly-like gorilla of the razor industry — burns people with their outrageous prices, while the internet razor guys with the funny video burn people by importing crappy razors from Asia and screwing Americans out of jobs. 800razors.com ensures people get the best razor for the best shave at the best price or it will provide a full refund via its Burn-Free Guarantee — no skin burn, wallet burn, or American job-loss burn."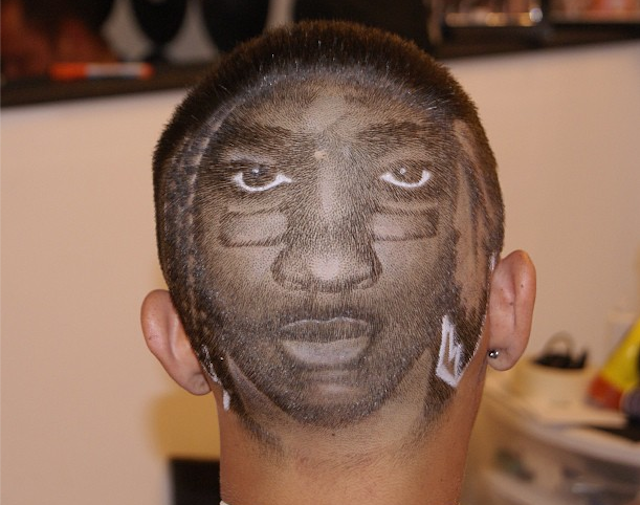 Feeling bad about relying on Redskins quarterback RGIII in fantasy this season? Don't worry, there's someone worse off than you.
This haircut was done by Illinois-based barber Jesus Cruz. "The (RG3) one is my best work so far," he said. "But I have not done my best work yet. I like a challenge." It took Cruz 2 1/2 hours to complete.
Based on his Instagram page, the RGIII isn't even close to the coolest haircut he has done; check out the Jack Nicholson portrait from The Shining.
Personally, I would've gone with the Joe Montana.
Bullz-Eye tackles Tough Mudder Lake Tahoe Degree DO:MORE Style!
There is no feeling on earth like sliding into the $125 robe in your room at the Ritz Carlton after spending six hours on the most difficult obstacle course in the world. Wait a minute, did someone say "Carlton"?  I thought they did.
This robe is the kind of robe Carlton would've rocked when he was on "Silver Spoons" with Ricky Schroeder. God, how I yearned to ride on that sweet in-house train, even just to go get the mail. Imagine me and the robe and the train. We'd run a train on the train; me, Carlton, the robe, Ricky… good times.
Sure, I thought about stealing the robe. Who wouldn't? But the minute I stepped foot off the premises, the magic would've been gone, like when a young Moonlight Graham steps over the foul line in "Field of Dreams" to be irrevocable transformed into Doc, the kindly doctor who removes a piece of hot dog from Kevin Costner's daughter's airway to save her life.
Anyway, I left the robe, and about a pound of ball skin, on the mountain that day, and lived to tell the tale.
Keeping it REAL klassy on the mountain…
But you know what I didn't leave on the mountain that day, friends? Sweat, or a stench of any kind. That's because Degree had my back, not unlike the way Chuck Norris had Jonathan Brandis' back in the movie "Sidekicks."
Degree allows you to DO: MORE with three levels of protection.
Posted in: Grooming, Hair Styles, Lifestyle, Old School, Shaving
Tags: Arctic Enema, Berlin Walls, Breaking Bad, Breaking Bad The Cousins, Cage Crawl, Carlton Banks, Chuck Norris, Corey Feldman, Degree, Degree Clinical Series, Degree DO:MORE, Degree Men Adrenaline Series, Degree Men Dry Protection, Electric Eel, Field of Dreams, Fresh Prince Of Bel Air, Jonathan Brandis, Kevin Costner, Liss Of Mud, Meatballs 4, Men's Deodorant, men's grooming, Moonligh Graham, Northstar Mountain, Rambo III, Ricky Schroeder, Ritz Carlton, Sidekicks Chuck Norris, Silver Spoons, Sylvester Stallone, Tough Mudder, Tough Mudder Lake Tahoe 2013, Train From Silver Spoons

Product Review: HeadBlade All-Terrain Razor and Shave Cream
"I am not a smart man, Jenn-ay, but I know what love is."
I am not a bald man, but I know an effective head-shaving razor when I see one.
The All-Terrain Razor from HeadBlade is truly awesome, and not because it looks like a miniature ATV, complete with HeadBlade logo hood ornament.
It looks gimmicky at first, but the minute you insert your fingers and take it for a ride, you notice it was built for maximum efficiency and ease of use. Once you use it, you wonder why no one had ever thought of this before.
Read more at http://blog.bullz-eye.com/2013/10/07/product-review-headblade-all-terrain-razor-and-shave-cream/#ik2fCBKP1oSirKGJ.99
Did you know that pomade was developed in the 19th century and was originally made of bear fat? Into the 20th century, the most common ingredients featured lard, beeswax and petroleum jelly.
Pomade in its original form was as natural as any hair product in history. But as styles changed, so did the demands expected of pomade, which caused heavier, less natural incarnations to be developed.  
Royal Crown Hair Dressing and Murray's Pomade are examples of pomade born out of this development and period in history. The effect of those products was the slick, greased back look popular in the 1950s and was heavily dependent on petroleum jelly, its main ingredient.
The pomade from HUE is a return to the original style of pomade, because it has a natural feel and consistency.
For the full review click here.
The highest aim of men's grooming is looking good. Being properly groomed means you feel crisp and fresh, and that doesn't just stop with your facial (or ear) hair; it extends to your clothes.
Recently, I've gotten into cufflinks. It only took 33 years, but I finally made it.
Aside from looking awesome and being the perfect accessory for the rest of your outfit, it feels great to wear them and really cap off a great suit or business attire.
When was the last time you saw a high power attorney, corporate CEO, former star athlete or other BSD (Big Swinging Dick) not wearing them?
Don't be intimidated; all you need is a French Cuff shirt and a pair of cufflinks you like. Here is a video to illustrate how easy it is: