The nerd style mostly involves dressing formally, but adding to it a little bit of funk. It may not be everyone's cup of tea though every other celebrity is trying to dabble with this unusual style.
Whether it's a thick pair of Clark Kent glasses or a neatly done crew cut, the nerdy fashion has truly arrived this season and is well on its way to being the next big style statement. There are plenty of celebrities rocking this style with a hint of their personal taste. Here are few of them and how they're flaunting it:
Justin Timberlake
The ladies' man, J. T, has been flaunting the nerd fashion style shamelessly from head to toe. His of late and consistent hairstyle is a clean cropped crew cut with a pair of thick, black framed glasses.
This style suits him quite a bit and he is among the few celebrities who truly know how to work this style to his benefit.
Whether it's a tuxedo or plain old jeans-and-tee, Justin is aware that accessories like peacock suspenders and belts can enhance the overall look.
Scarlett Johansson
One of the divas willing to brave this style statement is Scarlet Johansson. She is a true example of how to personalize any style to suit you without taking extreme measures.
Though many female celebrities such as Rihanna and Miley Cyrus are content to hack off their locks for something more sheer and cutting edge, Scarlett preferred arranging her hair in such a manner that make them appear more short and nerd fashion-appropriate.
She pulled them in a beautifully done side bouffant, some nude make up and a pair of thick, black framed glasses and she is good to go for a Comic Con.
Traevon Jackson
Traevon Jackson may not be rocking any nerdy outfits, but he is worth a mention here because no one boasts a crew cut the way that he does.
Jackson carries a sharp edged crew cut that brings all the attention to this finely chiseled face and, though not intentionally kept, his light beard and mustache give him the look of a newbie at college who has that distinctly nerd sense of style innate to him.
Justin Bieber
Bieber is one of the celebs who needs to work a little bit on managing this style yet is trying to make an effort at being nerdy. The hairstyle is definitely the key areas that need a little bit of work.
The tousled-haired teenage heartthrob would be quite amiss with a crew cut, but his typical all-over-the-place hairstyle isn't helping to add to his nerd look. His personalization of the thick framed glasses from black to white is very much a plus to his own style statement.
On the other hand, his need for big heavy jackets and boy band clothes really mess up the groove of serious nerd style. Perhaps a few sleeveless sweaters with some funky sweaters and the age old jeans and tee would help a bit.
Bring out the nerd in you this season. Whether it's a haircut, hairstyle or a complete wardrobe change, if nerdy is who you're, flaunt it like one of these stars or add your own personal touch to this growing style statement.
The Crew Cut Is Dead- But Why??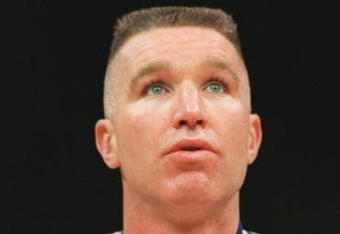 Who killed the Crew Cut? Was it Chris Mullin? Was it the military?
"I want answers! I want the truth!" "You can't handle the truth!"
Recently, Robert Pattinson got credit for sporting a Crew Cut, but since when is "high and tight" a Crew Cut? Uhh, since NEVER. My grandfather promply rolled over in his grave, uttered the word "Pansy's" and went back to sleep.
Wait- if a teeny bopper is sporting one, it can't be dead, right?? But if you're going to do it, please do it right. Now, pass the whiskey.
Photo from
fOTOGLIF
Actor Johnny Depp is showing off one of the six timeless hairstyles for men according to AskMen.com. This one is called "The Shag." Others wearing this style include John Lennon and Owen Wilson.
Others on the list include:
Natural side part – worn by George Clooney, Daniel Craig, and Steve McQueen
Crew cut/buzz cut – worn by David Beckham, Brad Pitt, Sidney Poitier, Will Smith, Justin Timberlake and Jay-Z
Slicked back – worn by Jimmy Stewart, Sean Connery and Leonardo DiCaprio
Quiff – worn by James Dean, Rock Hudson, Conan O'Brien, Elvis Presley and Morrissey
Side swept – worn by Michael Caine and Cary Grant
Check out the full article as it describes the history of each hairstyle.
Posted in: Grooming, Hair Styles, Old School
Tags: AskMen.com, Brad Pitt hairstyle, buzz cut, celebrity haircuts, celebrity hairstyles, Conan O'Brien hairstyle, crew cut, Daniel Craig hairstyle, David Beckham hairstyle, Elvis Presley hairstyle, George Clooney hairstyle, hairstyles, James Dean hairstyle, Jay-Z hairstyle, Jimmy Stewart hairstyle, Johnny Depp hairstyle, Justin Timberlake hairstyle, Leonardo DiCaprio hairstyle, Morrisey hairstyle, natural side part, quiff, Rock Hudson hairstyle, Sean Connery hairstyle, side swept, Sidney Poitier hairstyle, slicked back, Steve McQueen hairstyle, The Shag hairstyle, timeless hairstyles, Will Smith hairstyle