Degree Men Ultimate Football Fan Trip
Degree Men® is making it possible for you to win the Ultimate Football Fan Trip where you and a friend could win a 4-day trip to New York in February 2014. Before you start dreaming of taking a bite out of the Big Apple during the biggest sporting event of the year, check out the details.
How to Win: Visit www.DegreeFootball.com and complete the registration form between August 26, 2013 and December 5, 2013.
Strengthen Your Chances: Give yourself better odds of winning the Ultimate Football Fan Trip by registering your fantasy football team through Yahoo! Sports this season. Fans can earn bonus points toward prizing eligibility by delivering a strong performance each week with their fantasy roster and by entering Degree Men UPC codes online.
Visit www.DegreeFootball.com each week to see how you are performing vs. the competition!
Strong, Stronger, and Strongest Prizes: Degree Men provides three levels of protection through its Dry Protection, Adrenaline Series, and Clinical Series product lines. That's why in addition to daily instant win prizing, Degree Men will be rewarding fans with three levels of prizes. Prizing is as follows:
VIP Football Fan Trip For Two*
A 4-day all expenses paid trip to NYC for football's biggest weekend in February 2014; including VIP parties, celebrity meet & greets and an unforgettable football experience.
Ultimate Grill Package
The Dream Football Tailgating and Road Trip Package. Be the envy of every tailgate with a new portable grill, a 54 quart stainless steel cooler, a 50" TV, and more!
Improved Viewing Experience
A 46" HDTV. Catch the season's biggest games in hi-de­finition with the best available sports watching HDTV.
Take your football season to the next level – instantly win $25 gift cards to major retailers.
Which prize will you be yours? Play Yahoo! Sports fantasy football and this season with Degree Men.
For official rules visit www.DegreeFootball.com.
Product Review: Mizzen + Main Dress Shirts
When I opened the package containing the dress shirt from Mizzen + Main, I did it on a Sunday night, intentionally, because every Monday morning I go to the dry cleaner. Surely a dress shirt straight out of the mail needs to be labored over for optimal performance.
A quality dress shirt that looks good, feels great and doesn't cripple your wallet? Excuse me while I laugh my face off.
I pulled the shirt over my torso and was befuddled at how the shirt fit me so well, as I had casually requested a "large" sample. There were no previously exchanged measurements, or painstaking trips to the Men's Warehouse to act like I was buying a dress shirt in order to acquire my exact dimensions. And yet, the shirt fit my torso perfectly, with perfect sleeve length to match. It even made my biceps look outstanding thanks to the superior fit.
Posted in: Grooming, Lifestyle, New Trends
Tags: Chris Ogbonnaya, Chris Ogbonnaya Cleveland Browns, Chris Ogbonnaya Mizzen + Main, Cleveland Browns, Men's Clothing, Men's Dress Shirts, men's grooming, Mizzen + Main, Mizzen + Main Dress Shirts, Product Review: Mizzen + Main Dress Shirts

800razors.com Challenges Boston Red Sox To Tweak Their Beards for "Movember"
800razors.com, the burn-free razor company, today challenges the World Series champion Boston Red Sox players to help stand up to cancer and show their support by turning playoff beards into Movember mustaches for the entire month of November.
Movember is a month-long event that raises awareness for testicular cancer, prostate cancer, and mental health issues impacting men. Men around the world are challenged to grow a mustache and show their solidarity for this important cause.
"Let's talk balls – testicles not baseballs", said Philip Masiello, President of 800razors.com and a die-hard Yankees fan. "The Boston Red Sox showed they had the balls to win the World Series. Now, I challenge this Red Sox team to show they have the balls to raise awareness for cancer. If 10 players accept my challenge, I will personally drive razors up to Boston and help them shave their beards into mustaches on Monday. If they keep their mustaches through the month of November, 800razors.com will make a donation to the Movember charity in their names."
Those that have survived prostate or testicular cancer are encouraged to share their stories at 800razors.com's Facebook Page to help raise awareness and encourage others to get checked. In addition, 800razors.com challenges other businesses to get involved by rallying together to grow mustaches, encourage check-ups for early detection and donate to the Movember cause.
Says Masiello, "I encourage all men to get an exam, go to a clinic, see their doctor, do a self-exam—do whatever it takes to stay healthy and remove the stigma associated with testicular and prostate cancer!"
About 800razors.com
800razors.com (www.800razors.com) is the burn-free razor company. 800razors.com sells American-made razors that compare to Fusion, Mach III and Venus for about half the price. 800razors.com ensures people get the best razor for the best shave at the best price or it will provide a full refund via its Burn-Free Guarantee – no skin burn, wallet burn, or American job-loss burn. Founded in 2012, 800razors.com is headquartered in Boca Raton, FL. For more information visit 800razors.com.
BarberShopBlog interviews Chicago Bears All-Pro Charles Tillman on breast cancer, Deion Sanders and Halloween
Charles Tillman is so good, you take him for granted. Even during an 11-year career as a member of some of the fiercest defenses in NFL history, his consistent production and greatness are rarely recognized outside of Chicago.
"Peanut" owns the Bears' career records for defensive touchdowns (9), interceptions returned for touchdowns (8) and forced fumbles (39). Thanks to his signature move the "Peanut Punch," his 10 forced fumbles last year set an NFL single-season record, and the four fumbles he forced in a game against the Titans a year ago is the all-time single game record. His 36 career interceptions are just two away from tying Gary Fencik for the Bears' franchise record.
With two Pro Bowl selections and an appearance in Super Bowl XLI, Tillman's overall body of work solidifies him as the best cornerback in the history of the Chicago Bears and potentially as the most disruptive defensive back of all-time.
You're working with Proctor & Gamble on a campaign for breast cancer awareness. Tell me about that.
I partnered with P&G to encourage women to have an early detection plan with breast cancer. And, for the men in their lives, to motivate the women in their lives to create a plan. Everyone talks about how October is breast cancer awareness month. We have pink gloves, pink shoes, pink wrist bands, but it doesn't just end there. Breast cancer doesn't wait; it comes when it wants to. And you shouldn't wait. Go to PGEveryday.com/bca and get the app. This app will give you notifications that you need to go see your doctor this month, or get a checkup another time, and it gives you a reminder to have an early detection plan. If breast cancer is detected early enough, there's a 98% survival rate. I'm not a math guy, but I will take those odds.
You're the most physical corner in the NFL, which for some reason is very rare in the game; to have a real physical corner that can stop the run and jam receivers at the line. Why is that? Why are so many corners soft, and can we blame Deion Sanders for that?
No, I don't think you can blame Deion for that. I think it's just what is required of our defense. And it's not just me; my other Pro Bowl corner Tim Jennings… he and I are in the same boat. I think there are a lot of physical corners, not just to name myself and Tim. But I think what makes ours more evident is the type of defense that we play. It's required that our corners make tackles and make plays.
Posted in: Lifestyle, New Trends, Shop Talk
Tags: Charles Tillman, Charles Tillman Breast Cancer Awareness, Charles Tillman Chicago Bears, Charles Tillman Halloween Costume, Charles Tillman Interview, Charles Tillman P&G, Charles Tillman Proctor & Gamble, Chicago Bears, Chicago Bears Defense, Halloween, P&G Breast Cancer Awareness, Peanut Punch, Proctor & Gamble Breast Cancer Awareness, Randy Moss, Randy Moss Charles Tillman, Super Bowl XLI

The Lipton Ice Tea Sparkling Really Really Ridiculously Refreshingly Refreshing Project
Lipton has teamed up with Aussie YouTube star Adrian Van Oyen to get the word out about their new refreshing ice tea beverage, Lipton Ice Tea Sparkling.  Adrian takes to the streets to employ the most overused marketing clichés to market his own personal soda (AVO), in an attempt to demonstrate what works and what doesn't in soft drink promotion.  This is the first video Introducing The Lipton Ice Tea Sparkling Really Really Ridiculously Refreshingly Refreshing Project, so keep an eye out for more shenanigans from Adrian.

How to get the James Bond Style
James Bond is an icon to both men and women, even to this day, more than 40 years after the first film was released. We still love his style! This is not just about his sharp dress sense, no this is about each aspect of his cool and calm demeanour; from his sharp suits all the way through to his attitude towards life, he is the epitome of chilled out. This is the exact reason that many of us want to take a leaf out of Bond's book and turn towards his outlook for our lives. The question is, how do we do this? Here is your definitive guide to turning on the charm, James Bond style.
Learn how to play the tables
We all know that Bond has an infinity to the casino lifestyle; from playing the games to ordering those Martinis from the bar. This is why a night at the casino could make you feel like the next 007, but firstly you need to learn how to play the game as Bond rarely looses. There are hundreds of classic games to choose from, like Roulette, Poker and slots games but remember that Bond is a classic man so you need to choose wisely with this in mind.
Before you enter the casino, make sure you have done your homework about the game that you have chosen. Look into strategies, how other people have beaten the odds and how you will do the same. Once you have all the information before you, then you could be the next big winner but not before you have got the perfect outfit for your night.
Look the part to feel the part
James Bond is always immaculately dressed, whether he be wearing a sharp tailored suit or a relaxed afternoon shorts suit; he is the perfect representation of style. So as part of your casino experience, you also need to dress the part and that all starts with the suit. Let's face it, it couldn't be any other outfit really and this will be where you can really take on the Bond persona. For a night at the casino tables, fighting off the bad guys – at least metaphorically – you will need a tuxedo, or a blending between a traditional suit with hints of tux luxury.
The color you choose is entirely up to you, but nothing says it better than black, however adding a hint of bold color will add in your own personality as well as channeling your inner Bond. So add in your own personality to a black suit with a bold colored tie and comber band.
Look at the food and drink during the evening
It is a well known fact that James Bond will only drink Martini shaken not stirred; well that is until the last Bond film when he does sport a bottle of beer. Now, if you are looking for an evening that doesn't involve alcohol, especially if you are driving, then head for a non alcoholic cocktail as nothing screams decadence and Bond more than a cocktail. You should team this with a trip to the casino restaurant if there is one. If there isn't then planning in where you are going to eat in advance is advised, especially if you are taking a special date with you.
Bud Light NFL Fans Superstition Survey
Bud Light – the official beer of the NFL – recently conducted a survey to find the most superstitious fans in the NFL.
More than 9,500 interviews were fielded among the 32 NFL team fan bases, including approximately 300 fan interviews per team.
More than 50 questions were asked and, out of that, an "NFL Fan Superstition Index" formed. The index calculates the superstition level of each NFL fan base by each fan's game-day habits – everything from wearing dirty jerseys, chanting and kissing team trinkets to superstition consistency and true belief levels – and aggregates those into a score from 0 to 100. In addition to ranking the teams, the survey also gathered open-ended responses from fans about their individual superstitious activities.
The result is a fascinating glimpse inside the minds of NFL fans who will do whatever it takes for the win. After all, it's only weird if it doesn't work:
- Super Bowl and superstition champions: Baltimore Ravens fans rank as the most superstitious in the NFL.
- That's dedication: Carolina Panthers fans are four times more likely than the average NFL fan to have a relationship end due to their game-day superstitions (8% versus the NFL fan average of 2%).
- New Orleans Saints fans are most likely to say a certain saying, phrase, cheer or song for the win (37%).
- New York Jets fans are most likely to try to curse or jinx the opposing team (37%).
- Some quality me time: Detroit Lions fans are most likely to engage in superstitious activities alone (30%).
- Lucky duds: Oakland Raiders fans are most likely to wear the same article of clothing (51%) or same hat or non-clothing accessory (38%) to boost team performance.
- Arizona Cardinals fans are most likely to grab a Bud Light for the win; 27% incorporate the official beer sponsor of the NFL into their game-day superstitions or rituals.
To check out stats relating to YOUR favorite NFL team, follow this link.
Why Should You Wear A Tie Bar? Because They're #Badass!
When you wear a suit and tie, you feel cool. It immediately steps your credibility up about 10 notches.
Babes notice. Dudes notice. Old people will tell you that you, "Remind them of their grandson."
But what if your suit really looks like shit? If it looks the way a moth ball smells? If it looks like you raided your grandfather's casket?
Accessorize, friend. Make the suit your own; improve the suit because you're wearing it.
We covered cuff links a couple weeks ago. A tie bar is the easiest thing to wear and apply; it's a clip you put on your tie.
As simple as it is, it makes you feel good and when you feel good, other people take notice.
YOU will be the guy who wears the tie bar.  And have the same effect Michael Jackson did in his video for "Billie Jean" leaving everything he touched better than when he found it.
As I stood in Arrowhead Stadium — section 125, row 33 — rocking the #83 jersey of Raiders legend Ted Hendricks, the last thing on my mind was the shave I enjoyed that morning courtesy of a razor from 800razors.com.
There I was, getting my sexuality questioned by endless Chiefs fans, in front of endless Chiefs fans in an assault befitting of Kansas City's league leading defense. But one thing that wasn't getting questioned was the closeness of the shave delivered via the five-0lade men's razor from 800razors.com.
Just like the Raiders, 800razors.com is anti-establishment. If the razor game were the AFC West, 800razors.com would be gunning for opposing pretty boy quarterbacks in Denver and San Diego. Sorry KC, outside of Joe Montana, you've never had one. From the company's site:
"Gillette — the monopoly-like gorilla of the razor industry — burns people with their outrageous prices, while the internet razor guys with the funny video burn people by importing crappy razors from Asia and screwing Americans out of jobs. 800razors.com ensures people get the best razor for the best shave at the best price or it will provide a full refund via its Burn-Free Guarantee — no skin burn, wallet burn, or American job-loss burn."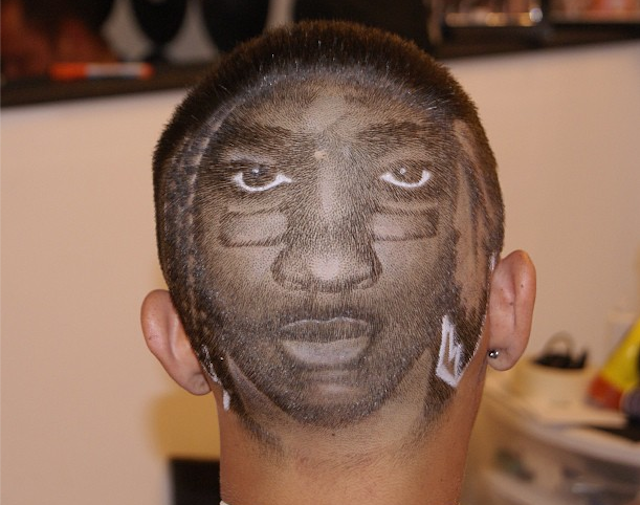 Feeling bad about relying on Redskins quarterback RGIII in fantasy this season? Don't worry, there's someone worse off than you.
This haircut was done by Illinois-based barber Jesus Cruz. "The (RG3) one is my best work so far," he said. "But I have not done my best work yet. I like a challenge." It took Cruz 2 1/2 hours to complete.
Based on his Instagram page, the RGIII isn't even close to the coolest haircut he has done; check out the Jack Nicholson portrait from The Shining.
Personally, I would've gone with the Joe Montana.