People Judge You By Your Neck Hair
Dudes, it's spring. For God's sake, please tend to your personal neck hair situation ASAP.
The one thing all men have in common despite social status, height, favorite NFL team or favorite member of the "A-Team" (Murdock for me) is the fire breathing demon of neck-hair. And what this article postulates is that you are limited by or succeed in spite of your own personal neck hair situation.
A close female friend of mine told me that she uses a guy's neck hair as a gauge for how much back hair he would potentially have and that she was hitting at an 85% clip.
Another female friend told me that if a guy doesn't care about his neck hair, which is fully visible, imagine what the "non-visible" hair would look like.
Put simply, if your neck hair is out of control, people automatically assume that your life is out of control. And, it probably is, friend.
Lets look to popular culture for examples, starting with Kourtney Kardashian's boyfriend on "Keeping Up with the Kardashians," Scott Disick.
You may not like him, but one thing you have to say is that he is impeccably well-groomed and probably has his neck hair removed via laser every couple weeks. And that is why he has a ton of money, a sweet car, and has impregnated a Kardashian that isn't Khloe.
Audrina Partridge at Hard Rock Music Lounge
<> at Hard Rock Hotel Palm Springs on April 13, 2013 in Palm Springs, California.
We're huge fans of Audrina Partridge so we were happy to get a look at these new photos of this lovely lady at the Hard Rock Music Lounge in Palm Springs. Plenty of celebs and VIPs joined her at the "Women Who Rock" pool party hosted by Kelly Rowland on Saturday, April 13th, with Kelly Rowland, Whitney Port, Elijah Wood, Chris Colfer, Darren Criss, Eli Roth, Josh Henderson, Brad Goreski, Katie Cassidy, Adrienne Bailon, Passion Pit and more on hand for the festivities.
Audrina was seen picking up a fringe swimsuit from Missguided in anticipation of spending the rest of her weekend under the desert sun and also checked out some new shoes. Check out the photos as she looks amazing as usual, this time wearing some cute Daisy Dukes.
Photo Credit: Johnny Nunez and Lisa Rose/lisarosephotography
Tags
:
Celebrities
Music
Posted in: Shop Talk
Tags: Adrienne Bailon, Audrina Partridge, Brad Goreski, celebrities, celebrity slideshows, Chris Colfer, Daisy Dukes, Darren Criss, Eli Roth, Elijah Wood, Hard Rock Music Lounge, Josh Henderson, Katie Cassidy, Kelly Rowland, Missguided, Palm Springs, Passion Pit, Whitney Port, Women Who Rock

BarberShopBlog Interviews Buffalo Bills "Jack Of All Trades" Brad Smith
One time, Brad Smith returned a kickoff 90 yards-with one shoe.  Another time, he scored on a 32 yard scamper via the ground. Yet another, he returned a blocked punt for a TUD. And I didn't even mention the fact that last season he scored on a 32 yard receiving TUD against the rival Patriots.
His insane versatility on the field stretches to his local community as well, where he started the "Brad Smith True Foundation" to help kids in his hometown of Youngstown, Ohio to promote "discipline, education and organized activity."
Recently, BarberShopBlog spoke with him about his first season in Buffalo, his preferred position, and his recent stint as an intern/backstage interviewer at Men's Health magazine.
BE: Since you've been in the league, we've seen an evolution where a QB who can run, like a Russell Wilson type, has become really valuable. Why do you think that's happened now and what started the shift since you got into the league?
Brad Smith:I think there's always been this type of player in the league, it's not new- you've always had guys like Fran Tarkenton, Steve Young, Randall Cunningham and other guys like that who have had a lot of success. Players like that are hard to find and I think that's a big part of it where colleges are going to the zone read- that's not all that these guys can do. You can be multi-dimensional and people start saying, "hey they have to defend this, and then this." Then, their running back gets more yards in the hole because they're worried about this.  It's all about scheme, man.
BE: In your pro career, you've been used in a myriad of ways — wide receiver, quarterback, kick return, running back, special teams — is there a way that you visualize yourself as a player?
Brad Smith: It's been crazy experience going on eight years now- because it's always something new. First, I come in, work at receiver for a few plays, then I go to running back, coach calls a few plays, did that. Then go to quarterback and work on those plays. Then I will hear the coach say, "Hey can you return kicks?" So, I tried that. Then its special teams tackling and blocking. So I just got an appreciation for the entire game but just want to make sure I help the team. There's no play that doesn't matter- every play matters. I don't know how to look at it any other way than that I'm just a football player who wants to win and get a Super Bowl championship.
BE: One thing I don't like as a fan are the new kick return rules; it's taken a lot of fun out of kick returns. How do you feel about that?
Brad Smith: I feel the same way. It's definitely added a drag to the game. About half the time now the ball is going out of the end zone, and if it doesn't, most teams don't bring it out deep. You've got a lot of teams that do bring it out. You're gonna see more and more teams just taking a chance and bringing it out.
Product Review: Edge Ultimate 6-in-1 Shave Gel
With each shave, each day, you get an opportunity for reinvention. Looking to rock that soul patch? You have the transformative power
and the decision at your fingertips to make it happen.
Want to rock that chinstrap beard that was so prevalent in the last decade? Well, do it dude.
The new Edge Ultimate 6-in-1 Shave Gel can aid your transformation. Think of it as your Sherpa on a journey to a new you.
Dove Skincare Interview With Dr. Allan Peterkin – Beardsman and Author of "The Bearded Gentleman: A Style Guide to Shaving Face"
Dr. Allan Peterkin is a physician, author and professor. He has published 14 books, most recently The Bearded Gentlemen: A Style Guide To Shaving Face, and is currently working with Dove and their new Men+Care Face Range, a full line to help dudes care for their faces.
Recently, I sat very close to Dr. Peterkin as we stroked our beards in a sexually suggestive manner in unison, and asked him the following questions.
BE: "Beardsmith" that you are, what's the best way to kiss my old lady with passion, yet not drag my stubble or goatee across her skin, to the point where she says it feels "exfoliated" after we're done?
DR. PETERKIN: Some call that a "snog burn," snog being the English word for kiss. The best advice I can give you is work on your angle and your approach, and moisturize your face often to keep it as soft as possible!
Your book is called The Bearded Gentleman: A Style Guide to Shaving Face and One Thousand Beards. What is the number one mistake most aspiring "beardsmen" make?
DR. PETERKIN: The number one mistake men make is that they think their grooming work is finished once they've grown a beard. Facial hair requires a lot of maintenance; men have to make a commitment to their beards! They need to be trimmed properly and their margins kept clean. Washing and moisturizing also helps to keep the facial hair clean, and to condition it, which is crucial. I like the new Dove Men+Care Face Range, which provides products specifically designed for men and offers a three step solution: cleanse shave, and finish. You can use the Dove Men+Care Face Wash to clean your beard and the Face Lotion to condition or soften it.
DR. PETERKIN: I often think of the term "flavor saver" in relation to the soul patch. I think the soul patch is a fun form of expression, probably most appropriate for younger guys. Facial hair has become more mainstream and acceptable, but I'm not so sure we're there yet with the soul patch.
An issue some guys have with their blonde hair is that it doesn't tend to grow in fully. Blonde facial hair can have uneven or patchy growth. Being a blonde myself, I suggest choosing a style after seeing what grows in most, and where, but don't be too concerned about the color of your hair. Just play to your strengths!
BE: How can I pick up chicks using just my "beardsmanship"?
DR. PETERKIN: That is a tough one and it's a matter of taste. Women seem to be split – some really like facial hair, others do not like it at all. Toss a coin, and if you're going to have facial hair, wear it proudly.
BE: What is your stance on guys who have so much chest hair that it naturally flows into the beard area? Should there be a distinct line of demarcation?
DR. PETERKIN: I think it would look better to have a distinct line of demarcation, somewhere between the chin and the Adam's apple. Men should shave the neck and lower edge of the beard, and leave their chest natural.
BE: In your opinion, either living or dead, who had the most badass facial hair in history?
DR. PETERKIN: I think I would have to say either Santa or Satan. Kidding. By category, I'd choose Salvador Dali's mustache and Elvis' sideburns. My favorite religious beard is Moses. I'd say one of my all-time favorites is romantic Composer Giuseppi Verdi's beard.
For more information on the new Dove Men+Care Face Range, click here. For more information on Dr. Peterkin's book, click here.
Posted in: Grooming, Hair Styles, New Trends, Old School, Shaving, Shop Talk
Tags: Beardsman, Beardsmith, Dove, Dove Men+Care Face Wash, Dove Skincare, Dove Skincare Interview With Dr. Allan Peterkin, Elvis' sideburns, Larry Bird, Salvador Dali's mustache, Soul Patch, The Bearded Gentleman: A Style Guide to Shaving Face

Tim Lincecum Haircut: Joseph Gordon-Levitt Or Rachel Maddow?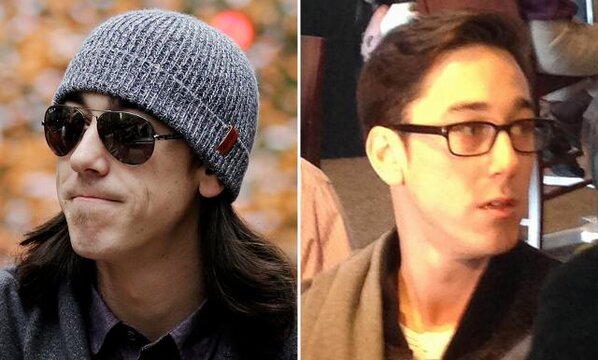 When you get a new haircut, there's always some joker with something to say about it. In this instance, the haircut belongs to San Francisco Giants ace pitcher Tim Lincecum and the joker in question is the entire internet.
I for one, miss Tim's long locks as they always reminded me of Mitch Kramer from the movie Dazed and Confused.
As we enter the start of the MLB season a week from today, there's one less non-conformist out there, hurling the spheroid.
Gatorade's New "Fixation" Ad Featuring Kevin Durant and Dwyane Wade Released
In this Gatorade spot for it's new product "Fixation", Kevin Durant dreams that Dwyane Wade is swatting him at the rim in a tense situation, while across the country, D Wade is dreaming that "Durantula" is dunking on him in the exact same scenario.
So was it even a dream? And, is it possible that both scenarios actually took place, in a parallel reality where OKC beat the Heat in the 2012 NBA Finals and the Thunder are coming off of a loss to the Bulls, completing the second longest winning streak in NBA history?
In either reality, Gatorade's "Fixation" is available for consumption, check it out here.
Anthony Davis' Unibrow Wants You To Use Boost Mobile
In a new TV ad for Boost Mobile, New Orleans Hornets #1 draft pick Anthony Davis' unibrow tells you its innermost thoughts about being "The most famous piece of eye hair in the world.? And of course, the new Gametime Plus app from Boost Mobile.
Davis famously took out a copyright on his unibrow last year. Unibrows are pretty gross, chicks don't like them- if a regular citizen like you or I tried to rock the unibrow, we'd be chased through the town square with pitch forks and torches, treated like the freak we would be.
But if you're a 7-foot stud NBA rookie fresh off winning the NCAA championship, men want to be your unbrow, while women want to be with it.
Check out the ad here. It's voice sounds curiously similar to ESPN's Marcellus Wiley.
Product Review: Edge Body Renew Face & Body Shave Cream
He put the Beefaroni in his hand cart and suddenly said, "Do you have any idea how hard it is to shave with one eye?" Which was weird because we were still in the Beefaroni aisle.
"No, I don't. I assume it would be difficult. How do you do it?"
"Slowly, to be sure," he said. "But I also use this badass shit that you should try out. I helped you out with the Mini Ravioli, let me help you with this."
I didn't have anywhere to be, so I followed him to another aisle. Plus, it felt cool to be associated with a guy wearing an eye-patch in public.
How Many Hot Dogs Can YOU Shove In Your Mouth, Lady?
Baby, let's get down to brass tax. Spring has "sprung" and that means Spring Training is also in "full swing". It's time to "spread the pollen around."
If a guy ever tells you that he doesn't enjoy watching you scarf down that hot dog (or banana) from your view in the box seats, he's straight up lying to impress you. For shame, germs.
Which is why I like this dude and the serious face he makes when he confirms he is in fact, "turned on."
You've been warned, baby. Now…who wants an Astro Pop??