Interview with Kickboxer Wayne Barrett on the middleweight title and rise of GLORY
GLORY is the premiere kickboxing organization in the world. And even if you aren't familiar with it yet, Spike TV is betting it will take off. Similar to the way Spike popularized the UFC with an unprecedented TV deal in 2005, the network is betting on the crossover appeal of kickboxing, featuring GLORY kickboxing events on a monthly basis.
"We really like this sport," said Jon Slusser, Spike's senior Vice President of Sports. "If you talk to people who like MMA, they love kickboxing. With the growth of MMA and the growth of combat sports over the last decade, a reintroduction of the sport is what we think will give this sport the boost it needs to really climb into the spotlight," says Slusser.
Middleweight Wayne Barrett finds himself in the perfect place at the perfect time. On the mat is where his opponents have found themselves since the former Golden Gloves boxing champ turned pro.
As an amateur, Barrett compiled a 19-1 kickboxing and Muay Thai record. Barrett's GLORY debut came in a September when he knocked out Robby Plotkin in the first round. In his second GLORY fight, he toyed with and then knocked out previously undefeated Mike Lemaire in round two. In a total of 23 fights, he has amassed 18 knockouts.
Saturday November 23rd on Spike TV, Barrett faces Schilling at Madison Square Garden in New York City for the inaugural GLORY Middleweight Championship.
Posted in: Lifestyle, New Trends, Shop Talk
Tags: GLORY, GLORY 12, GLORY Kickboxing, Joe Schilling, Mike Lemaire, MMA, spike tv, UFC, Wayne Barrett, Wayne Barrett interview

Product Review: Schick Hydro 5 Assassin's Creed IV: Black Flag Holiday Gift Pack
If you were an assassin, who's the first person you would kill? If you said notable pirates in 1715, Schick and "Assassin's Creed IV: Black Flag" have your back.
For its latest product offering, Schick has teamed up with "Assassin's Creed IV: Black Flag" to produce the stealthiest men's shaving gift pack ever created. It's so stealthy that if you acquire it while playing Secret Santa, you will have no idea who gave it to you.
The Schick Hydro 5 Holiday Gift Pack contains the following components: one Schick Hydro 5 Razor, one Schick Hydro canister of Sensitive Shave Gel, one Schick Hydro 5 Travel Cap, three Schick Hydro 5 Razor Cartridges, and one code for unlockable content in "Assassin's Creed IV: Black Flag."
And because we love our readers so much, we're also giving away a copy of "Assassin's Creed IV: Black Flag" for the PlayStation 3.
Click here to enter
for your chance to win!
Read the full review at http://blog.bullz-eye.com/2013/11/17/product-review-schick-hydro-5-assassins-creed-iv-black-flag-holiday-gift-pack/#firEFimFRKuzas4Z.99
Product Review: Mizzen + Main Dress Shirts
When I opened the package containing the dress shirt from Mizzen + Main, I did it on a Sunday night, intentionally, because every Monday morning I go to the dry cleaner. Surely a dress shirt straight out of the mail needs to be labored over for optimal performance.
A quality dress shirt that looks good, feels great and doesn't cripple your wallet? Excuse me while I laugh my face off.
I pulled the shirt over my torso and was befuddled at how the shirt fit me so well, as I had casually requested a "large" sample. There were no previously exchanged measurements, or painstaking trips to the Men's Warehouse to act like I was buying a dress shirt in order to acquire my exact dimensions. And yet, the shirt fit my torso perfectly, with perfect sleeve length to match. It even made my biceps look outstanding thanks to the superior fit.
Posted in: Grooming, Lifestyle, New Trends
Tags: Chris Ogbonnaya, Chris Ogbonnaya Cleveland Browns, Chris Ogbonnaya Mizzen + Main, Cleveland Browns, Men's Clothing, Men's Dress Shirts, men's grooming, Mizzen + Main, Mizzen + Main Dress Shirts, Product Review: Mizzen + Main Dress Shirts

BarberShopBlog interviews Chicago Bears All-Pro Charles Tillman on breast cancer, Deion Sanders and Halloween
Charles Tillman is so good, you take him for granted. Even during an 11-year career as a member of some of the fiercest defenses in NFL history, his consistent production and greatness are rarely recognized outside of Chicago.
"Peanut" owns the Bears' career records for defensive touchdowns (9), interceptions returned for touchdowns (8) and forced fumbles (39). Thanks to his signature move the "Peanut Punch," his 10 forced fumbles last year set an NFL single-season record, and the four fumbles he forced in a game against the Titans a year ago is the all-time single game record. His 36 career interceptions are just two away from tying Gary Fencik for the Bears' franchise record.
With two Pro Bowl selections and an appearance in Super Bowl XLI, Tillman's overall body of work solidifies him as the best cornerback in the history of the Chicago Bears and potentially as the most disruptive defensive back of all-time.
You're working with Proctor & Gamble on a campaign for breast cancer awareness. Tell me about that.
I partnered with P&G to encourage women to have an early detection plan with breast cancer. And, for the men in their lives, to motivate the women in their lives to create a plan. Everyone talks about how October is breast cancer awareness month. We have pink gloves, pink shoes, pink wrist bands, but it doesn't just end there. Breast cancer doesn't wait; it comes when it wants to. And you shouldn't wait. Go to PGEveryday.com/bca and get the app. This app will give you notifications that you need to go see your doctor this month, or get a checkup another time, and it gives you a reminder to have an early detection plan. If breast cancer is detected early enough, there's a 98% survival rate. I'm not a math guy, but I will take those odds.
You're the most physical corner in the NFL, which for some reason is very rare in the game; to have a real physical corner that can stop the run and jam receivers at the line. Why is that? Why are so many corners soft, and can we blame Deion Sanders for that?
No, I don't think you can blame Deion for that. I think it's just what is required of our defense. And it's not just me; my other Pro Bowl corner Tim Jennings… he and I are in the same boat. I think there are a lot of physical corners, not just to name myself and Tim. But I think what makes ours more evident is the type of defense that we play. It's required that our corners make tackles and make plays.
Posted in: Lifestyle, New Trends, Shop Talk
Tags: Charles Tillman, Charles Tillman Breast Cancer Awareness, Charles Tillman Chicago Bears, Charles Tillman Halloween Costume, Charles Tillman Interview, Charles Tillman P&G, Charles Tillman Proctor & Gamble, Chicago Bears, Chicago Bears Defense, Halloween, P&G Breast Cancer Awareness, Peanut Punch, Proctor & Gamble Breast Cancer Awareness, Randy Moss, Randy Moss Charles Tillman, Super Bowl XLI

The Lipton Ice Tea Sparkling Really Really Ridiculously Refreshingly Refreshing Project
Lipton has teamed up with Aussie YouTube star Adrian Van Oyen to get the word out about their new refreshing ice tea beverage, Lipton Ice Tea Sparkling.  Adrian takes to the streets to employ the most overused marketing clichés to market his own personal soda (AVO), in an attempt to demonstrate what works and what doesn't in soft drink promotion.  This is the first video Introducing The Lipton Ice Tea Sparkling Really Really Ridiculously Refreshingly Refreshing Project, so keep an eye out for more shenanigans from Adrian.

Bud Light NFL Fans Superstition Survey
Bud Light – the official beer of the NFL – recently conducted a survey to find the most superstitious fans in the NFL.
More than 9,500 interviews were fielded among the 32 NFL team fan bases, including approximately 300 fan interviews per team.
More than 50 questions were asked and, out of that, an "NFL Fan Superstition Index" formed. The index calculates the superstition level of each NFL fan base by each fan's game-day habits – everything from wearing dirty jerseys, chanting and kissing team trinkets to superstition consistency and true belief levels – and aggregates those into a score from 0 to 100. In addition to ranking the teams, the survey also gathered open-ended responses from fans about their individual superstitious activities.
The result is a fascinating glimpse inside the minds of NFL fans who will do whatever it takes for the win. After all, it's only weird if it doesn't work:
- Super Bowl and superstition champions: Baltimore Ravens fans rank as the most superstitious in the NFL.
- That's dedication: Carolina Panthers fans are four times more likely than the average NFL fan to have a relationship end due to their game-day superstitions (8% versus the NFL fan average of 2%).
- New Orleans Saints fans are most likely to say a certain saying, phrase, cheer or song for the win (37%).
- New York Jets fans are most likely to try to curse or jinx the opposing team (37%).
- Some quality me time: Detroit Lions fans are most likely to engage in superstitious activities alone (30%).
- Lucky duds: Oakland Raiders fans are most likely to wear the same article of clothing (51%) or same hat or non-clothing accessory (38%) to boost team performance.
- Arizona Cardinals fans are most likely to grab a Bud Light for the win; 27% incorporate the official beer sponsor of the NFL into their game-day superstitions or rituals.
To check out stats relating to YOUR favorite NFL team, follow this link.
As I stood in Arrowhead Stadium — section 125, row 33 — rocking the #83 jersey of Raiders legend Ted Hendricks, the last thing on my mind was the shave I enjoyed that morning courtesy of a razor from 800razors.com.
There I was, getting my sexuality questioned by endless Chiefs fans, in front of endless Chiefs fans in an assault befitting of Kansas City's league leading defense. But one thing that wasn't getting questioned was the closeness of the shave delivered via the five-0lade men's razor from 800razors.com.
Just like the Raiders, 800razors.com is anti-establishment. If the razor game were the AFC West, 800razors.com would be gunning for opposing pretty boy quarterbacks in Denver and San Diego. Sorry KC, outside of Joe Montana, you've never had one. From the company's site:
"Gillette — the monopoly-like gorilla of the razor industry — burns people with their outrageous prices, while the internet razor guys with the funny video burn people by importing crappy razors from Asia and screwing Americans out of jobs. 800razors.com ensures people get the best razor for the best shave at the best price or it will provide a full refund via its Burn-Free Guarantee — no skin burn, wallet burn, or American job-loss burn."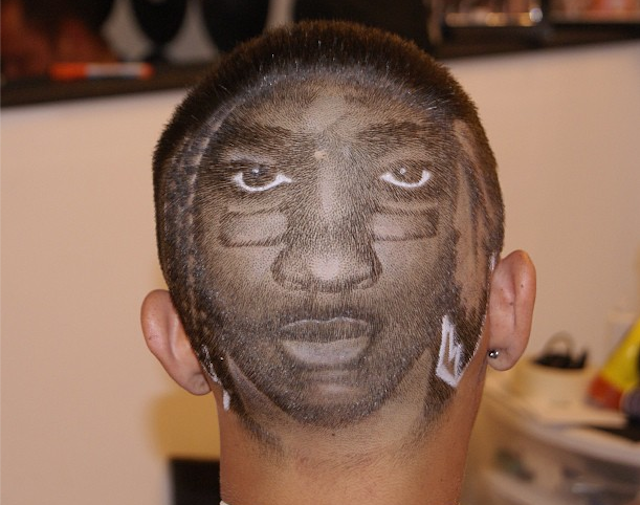 Feeling bad about relying on Redskins quarterback RGIII in fantasy this season? Don't worry, there's someone worse off than you.
This haircut was done by Illinois-based barber Jesus Cruz. "The (RG3) one is my best work so far," he said. "But I have not done my best work yet. I like a challenge." It took Cruz 2 1/2 hours to complete.
Based on his Instagram page, the RGIII isn't even close to the coolest haircut he has done; check out the Jack Nicholson portrait from The Shining.
Personally, I would've gone with the Joe Montana.
Product Review: HeadBlade All-Terrain Razor and Shave Cream
"I am not a smart man, Jenn-ay, but I know what love is."
I am not a bald man, but I know an effective head-shaving razor when I see one.
The All-Terrain Razor from HeadBlade is truly awesome, and not because it looks like a miniature ATV, complete with HeadBlade logo hood ornament.
It looks gimmicky at first, but the minute you insert your fingers and take it for a ride, you notice it was built for maximum efficiency and ease of use. Once you use it, you wonder why no one had ever thought of this before.
Read more at http://blog.bullz-eye.com/2013/10/07/product-review-headblade-all-terrain-razor-and-shave-cream/#ik2fCBKP1oSirKGJ.99
LeBron James' Receding Hairline Featured in NBA 2K14
Is there anything more emasculating than seeing your bald spot progress over time in photographs? People can gauge what year the photo was taken based on the amount of hair you had.
"Oh look- Paul has a full head of hair in this one. That must be in the late 90′s."
LeBron James will feel this pain in both real life and virtual reality. The makers of the #1 selling NBA video game NBA 2K14 announced that they will feature King James' receding hairline in the latest installment of the game.
In a statement released by the game maker, the decision was based on an accurate reflection of reality.  "We strive for current realism with all our players."
But instead of wistfully looking back at the 90′s, LBJ can gauge what year it was by counting NBA championships.
"Oh yeah, I remember 2k14. That was the year I won three championships in a row- the first time."