Old Spice "Get Shaved in the Face" Electric Shavers & Trimmers
Old Spice has introduced its new lineup of Old Spice Electric Shavers and Trimmers powered by Braun, along with a new digital advertisement – "Get Shaved in the Face" – with actor ("Brooklyn Nine-Nine") and Old Spice Guy, Terry Crews. And, the timing couldn't be more perfect! 
Reasons to "Get Shaved In the Face" with new Old Spice Electric Shavers and Trimmers:
Old Spice Guy Terry Crews Said So

 – Terry Crews helped introduce new Old Spice Shave Gel last year, so he knows what he's talking about. He also looks pretty intimidating with his shirt off.


First Day of Spring (March 20)

 – It's time for guys to hibernate those nasty winter beards.

Beard Envy

 – With any new facial hair transplant comes the need for a new beard trimmer. Talk about taking advantage of a trend.
New Old Spice Electric Shavers and Trimmers:
Hair Clipper ($49.99)

 – Like a lawn mower for your hair with 8 adjustable settings.


Beard & Head Trimmer ($49.99)

 – Get your face and head shipshape with 12 adjustable settings for precisely trimmed beardstyles and hairstyles.


Wet & Dry Shave & Trim ($59.99)

 – This is the pocket knife of shavers for your face. Shave, trim and define with one tool, in and out of the shower.


Shaver ($69.99)

 – Like 3 smooth barbers for your face, this shaver features a triple-action cutting system with twin foils that shave off stubble and an integrated cutter that shortens longer hairs.


Wet & Dry Shaver ($79.99)

 – Features triple-action cutting system that's tough on hair and smooth on skin. Can be used on land or at sea (in the shower) with Old Spice shave gel. For more information on the new shavers, visit oldspice.com.
Product Review: New York Streets TAR Hair Product
TAR is a texturizing hair product with a medium hold from New York Streets. And being from the streets of NY, it comes with a neck tattoo and a knife. I'm just kidding, those are sold separately. If you do rock a neck tattoo and a knife, "Go Ahead – Be Free," which is what New York Streets is all about.
The first thing I noticed was the color of the product. The steel gray color reminded me of paint. And for the canvas of your head, isn't your hair essentially paint, anyway?
Hair is ultimately a reflection of the person who owns it, and how you style your hair says a lot about your personal brand and how you interact with the world.
Posted in: Grooming, Hair Styles, New Trends, Old School
Tags: Cafe Terrace at Night, men's hair care, Men's Hair Products, Men's Styling Products, Misfits Static Age, Missy Elliot, Missy Elliot Work It, New York Streets, New York Streets TAR, New York Streets Xtreme Gel, Self-Portrait with Straw Hat, The Starry Night, Vincent Van Gogh

Receding Hairline Or Bald Spot? Don't "Munson" Yourself
There's only so much we can control. And one of those things we have no control over is whether or not we develop a receding hairline or a bald spot.
But what we can control is how we handle it. That means saying no to the comb over like Bill Murray in "Kingpin" or wearing an endless array of hats to cover our ongoing hair loss.
Rock that shit like Jason Statham or Bruce Willis and own it; don't hide from it.
It is what it is and if you're comfortable in yourself, the ladies will respond, bald spot or no.
They always do.
Posted in: Grooming, Hair Styles, Lifestyle, New Trends, Old School
Tags: Bald Spot, Bill Murray, Bruce Willis, Jason Statham, Kingpin, Men's Hair Loss, Receding Hairline

Product Review: Titan Post Battle Products
MRSA – what the hell is that? MRSA is the bacteria that causes Staph infections and is a lot easier to say than its given name of "Methicillin-resistant Staphylococcus aureus." It may sound like a character off of "Sesame Street," but it is no joke. Staph infections can mutate into a flesh eating "Necrotizing fasciitis" which can devour human flesh, and sometimes, entire NFL franchises, like the Tampa Bay Buccaneers.
One of many problems the Buccaneers have faced during a brutal 2013 season is an outbreak of MRSA, which has sidelined a total of three players, one as recent as the end of last month.
Some Bucs (and potentially former quarterback Josh Feeeman) fans would argue that head coach Greg Schiano is a form of bacteria that can't be stopped. But a quick dose of Titan Protective Cleansers would go a long way.
MRSA is a bacteria that is resistant to most antibiotics but can be prevented by simply maintaining good hygiene, and that's where Titan's Post Battle products have done all the work for you.
Titan's bacteria fighting repertoire is two-pronged. First, it cleans your body with a Hair & Body Wash containing a proprietary blend that fights bacteria and fungus on your body. Then, a different blend of antibacterial agents is employed in Titan's Equipment Spray that will make that dingy Olympic bench press in your basement clean enough to eat off of.
Posted in: Grooming, Hair Styles, Lifestyle
Tags: Dennis Bermudez, Dennis "The Menace" Bermudez, Greg Schiano, MMA, MRSA, Product Review: Titan Post Battle Products, Staph infections, Tampa Bay Buccaneers, Titan Hair & Body Wash, Titan MMA, Titan Post Battle Products, Titan's Equipment Spray, UFC

As I stood in Arrowhead Stadium — section 125, row 33 — rocking the #83 jersey of Raiders legend Ted Hendricks, the last thing on my mind was the shave I enjoyed that morning courtesy of a razor from 800razors.com.
There I was, getting my sexuality questioned by endless Chiefs fans, in front of endless Chiefs fans in an assault befitting of Kansas City's league leading defense. But one thing that wasn't getting questioned was the closeness of the shave delivered via the five-0lade men's razor from 800razors.com.
Just like the Raiders, 800razors.com is anti-establishment. If the razor game were the AFC West, 800razors.com would be gunning for opposing pretty boy quarterbacks in Denver and San Diego. Sorry KC, outside of Joe Montana, you've never had one. From the company's site:
"Gillette — the monopoly-like gorilla of the razor industry — burns people with their outrageous prices, while the internet razor guys with the funny video burn people by importing crappy razors from Asia and screwing Americans out of jobs. 800razors.com ensures people get the best razor for the best shave at the best price or it will provide a full refund via its Burn-Free Guarantee — no skin burn, wallet burn, or American job-loss burn."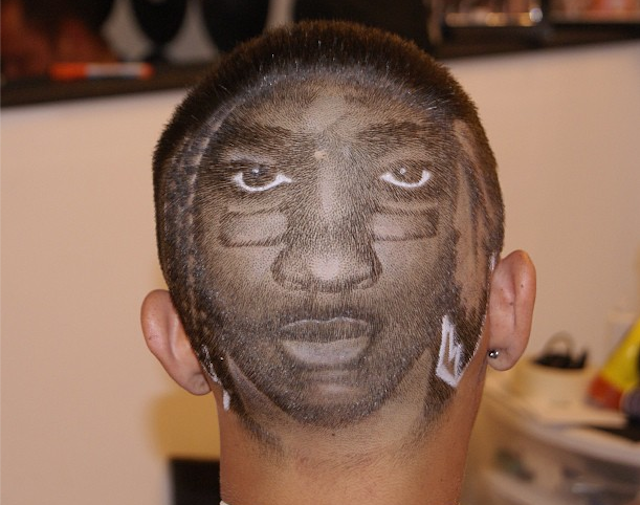 Feeling bad about relying on Redskins quarterback RGIII in fantasy this season? Don't worry, there's someone worse off than you.
This haircut was done by Illinois-based barber Jesus Cruz. "The (RG3) one is my best work so far," he said. "But I have not done my best work yet. I like a challenge." It took Cruz 2 1/2 hours to complete.
Based on his Instagram page, the RGIII isn't even close to the coolest haircut he has done; check out the Jack Nicholson portrait from The Shining.
Personally, I would've gone with the Joe Montana.
Bullz-Eye tackles Tough Mudder Lake Tahoe Degree DO:MORE Style!
There is no feeling on earth like sliding into the $125 robe in your room at the Ritz Carlton after spending six hours on the most difficult obstacle course in the world. Wait a minute, did someone say "Carlton"?  I thought they did.
This robe is the kind of robe Carlton would've rocked when he was on "Silver Spoons" with Ricky Schroeder. God, how I yearned to ride on that sweet in-house train, even just to go get the mail. Imagine me and the robe and the train. We'd run a train on the train; me, Carlton, the robe, Ricky… good times.
Sure, I thought about stealing the robe. Who wouldn't? But the minute I stepped foot off the premises, the magic would've been gone, like when a young Moonlight Graham steps over the foul line in "Field of Dreams" to be irrevocable transformed into Doc, the kindly doctor who removes a piece of hot dog from Kevin Costner's daughter's airway to save her life.
Anyway, I left the robe, and about a pound of ball skin, on the mountain that day, and lived to tell the tale.
Keeping it REAL klassy on the mountain…
But you know what I didn't leave on the mountain that day, friends? Sweat, or a stench of any kind. That's because Degree had my back, not unlike the way Chuck Norris had Jonathan Brandis' back in the movie "Sidekicks."
Degree allows you to DO: MORE with three levels of protection.
Posted in: Grooming, Hair Styles, Lifestyle, Old School, Shaving
Tags: Arctic Enema, Berlin Walls, Breaking Bad, Breaking Bad The Cousins, Cage Crawl, Carlton Banks, Chuck Norris, Corey Feldman, Degree, Degree Clinical Series, Degree DO:MORE, Degree Men Adrenaline Series, Degree Men Dry Protection, Electric Eel, Field of Dreams, Fresh Prince Of Bel Air, Jonathan Brandis, Kevin Costner, Liss Of Mud, Meatballs 4, Men's Deodorant, men's grooming, Moonligh Graham, Northstar Mountain, Rambo III, Ricky Schroeder, Ritz Carlton, Sidekicks Chuck Norris, Silver Spoons, Sylvester Stallone, Tough Mudder, Tough Mudder Lake Tahoe 2013, Train From Silver Spoons

Product Review: HeadBlade All-Terrain Razor and Shave Cream
"I am not a smart man, Jenn-ay, but I know what love is."
I am not a bald man, but I know an effective head-shaving razor when I see one.
The All-Terrain Razor from HeadBlade is truly awesome, and not because it looks like a miniature ATV, complete with HeadBlade logo hood ornament.
It looks gimmicky at first, but the minute you insert your fingers and take it for a ride, you notice it was built for maximum efficiency and ease of use. Once you use it, you wonder why no one had ever thought of this before.
Read more at http://blog.bullz-eye.com/2013/10/07/product-review-headblade-all-terrain-razor-and-shave-cream/#ik2fCBKP1oSirKGJ.99
LeBron James' Receding Hairline Featured in NBA 2K14
Is there anything more emasculating than seeing your bald spot progress over time in photographs? People can gauge what year the photo was taken based on the amount of hair you had.
"Oh look- Paul has a full head of hair in this one. That must be in the late 90′s."
LeBron James will feel this pain in both real life and virtual reality. The makers of the #1 selling NBA video game NBA 2K14 announced that they will feature King James' receding hairline in the latest installment of the game.
In a statement released by the game maker, the decision was based on an accurate reflection of reality.  "We strive for current realism with all our players."
But instead of wistfully looking back at the 90′s, LBJ can gauge what year it was by counting NBA championships.
"Oh yeah, I remember 2k14. That was the year I won three championships in a row- the first time."
Did you know that pomade was developed in the 19th century and was originally made of bear fat? Into the 20th century, the most common ingredients featured lard, beeswax and petroleum jelly.
Pomade in its original form was as natural as any hair product in history. But as styles changed, so did the demands expected of pomade, which caused heavier, less natural incarnations to be developed.  
Royal Crown Hair Dressing and Murray's Pomade are examples of pomade born out of this development and period in history. The effect of those products was the slick, greased back look popular in the 1950s and was heavily dependent on petroleum jelly, its main ingredient.
The pomade from HUE is a return to the original style of pomade, because it has a natural feel and consistency.
For the full review click here.