Rich people wear watches. If you're trying to get your paper right, get a badass watch and show some fools "what time it is".
A new survey from Spectrem Group's Millionaire Corner shows most wealthy investors wear wristwatches (67 percent), with the percentage of wearers increasing with wealth.
Younger investors are less likely to wear a watch, and 79 percent of individuals without one tell time with a cell phone or some form of digital clock. Other methods include a computer (5 percent), wall clocks (10 percent), and 6 percent "don't care what time it is.
It's "time" to get a watch, playa.
Have You Seen Aaron Rodgers' Moustache?
During this past Sunday's Packers and Vikings overtime tie, the Fox camera kept cutting to the Packers sideline and showing a man that I assumed was an equipment manager on the sideline.
But it was no equipment manager; it was Packers stud QB Aaron Rodgers, sporting a moustache that would make any maintenance man proud.
I marveled at the thickness of it. If a man can grow a superior moustache, it's his obligation to society to maintain it, if only for the kids.
In this world of shaved chests and hairless faces, it made me quiver with delight.
Speaking of moustaches, who better to talk about their cultural relevance than beard physician and sex oblect, Dr. Allan Peterkin?
Do it for the kids, friend.
Product Review: Titan Post Battle Products
MRSA – what the hell is that? MRSA is the bacteria that causes Staph infections and is a lot easier to say than its given name of "Methicillin-resistant Staphylococcus aureus." It may sound like a character off of "Sesame Street," but it is no joke. Staph infections can mutate into a flesh eating "Necrotizing fasciitis" which can devour human flesh, and sometimes, entire NFL franchises, like the Tampa Bay Buccaneers.
One of many problems the Buccaneers have faced during a brutal 2013 season is an outbreak of MRSA, which has sidelined a total of three players, one as recent as the end of last month.
Some Bucs (and potentially former quarterback Josh Feeeman) fans would argue that head coach Greg Schiano is a form of bacteria that can't be stopped. But a quick dose of Titan Protective Cleansers would go a long way.
MRSA is a bacteria that is resistant to most antibiotics but can be prevented by simply maintaining good hygiene, and that's where Titan's Post Battle products have done all the work for you.
Titan's bacteria fighting repertoire is two-pronged. First, it cleans your body with a Hair & Body Wash containing a proprietary blend that fights bacteria and fungus on your body. Then, a different blend of antibacterial agents is employed in Titan's Equipment Spray that will make that dingy Olympic bench press in your basement clean enough to eat off of.
Posted in: Grooming, Hair Styles, Lifestyle
Tags: Dennis Bermudez, Dennis "The Menace" Bermudez, Greg Schiano, MMA, MRSA, Product Review: Titan Post Battle Products, Staph infections, Tampa Bay Buccaneers, Titan Hair & Body Wash, Titan MMA, Titan Post Battle Products, Titan's Equipment Spray, UFC

800razors.com Man's Guide to Packing Toiletries
For a guy, there are few things worse than reaching into a toiletry kit for an item and coming up short on the necessary essentials.  Whether it's a trip to his significant other's, "paratrooping" for a place to stay, or simply spending a night with friends, being unprepared can really dampen an overnight stay.
800razors.com, the burn-free razor company, shares its top 6 items that no man's overnight kit should be without.
1.     Toothbrush, Toothpaste, Floss – Oral hygiene is absolutely crucial. Not taking care of your teeth, tongue, and mouth is a sure fire way to scare away love interests and friends.  The only thing worse than a seed stuck in between your teeth is rancid morning breathe.
2.     Razors – If your name isn't "wolfman," you're not going to grow a beard over night. However, unless you're a meticulous shaver, you may have missed a strip on your face, jaw line, or down under. Ordering subscription-based razors from 800razors.com ensures you'll always have high-quality, American-made razors ready to go.
3.     Corrective Lenses, Solution, Case – Sleeping with contact lenses in invites unsightly eye irritation. Be prepared with solution and a case to keep your eyes and lenses clean. When the contacts are out, avoid looking like a blind bat by bringing eyeglasses.
4.     Condoms – The Boy Scout's motto "Be Prepared" is as important as ever when hanging out with a love interest. Nothing kills the mood like "I forgot one."
5.     Q-Tips – No one wants to see that yellow crap coming out of your ears. Steal a minute in the bathroom and dig it out. Q-tips also come in handy for other needed cleaning exercises, such as removing belly-button lint.
6.     Deodorant & Cologne – Unless your natural musk is "Ironman" or "Extreme Blast," don't forget to bring deodorant and cologne to mask your manly, sweaty scent.
When out for the night, you can't afford to forget anything within your toiletry kit! We hope you'll share these tips from 800razors.com to safeguard against forgetful packing.
Product Review: Mizzen + Main Dress Shirts
When I opened the package containing the dress shirt from Mizzen + Main, I did it on a Sunday night, intentionally, because every Monday morning I go to the dry cleaner. Surely a dress shirt straight out of the mail needs to be labored over for optimal performance.
A quality dress shirt that looks good, feels great and doesn't cripple your wallet? Excuse me while I laugh my face off.
I pulled the shirt over my torso and was befuddled at how the shirt fit me so well, as I had casually requested a "large" sample. There were no previously exchanged measurements, or painstaking trips to the Men's Warehouse to act like I was buying a dress shirt in order to acquire my exact dimensions. And yet, the shirt fit my torso perfectly, with perfect sleeve length to match. It even made my biceps look outstanding thanks to the superior fit.
Posted in: Grooming, Lifestyle, New Trends
Tags: Chris Ogbonnaya, Chris Ogbonnaya Cleveland Browns, Chris Ogbonnaya Mizzen + Main, Cleveland Browns, Men's Clothing, Men's Dress Shirts, men's grooming, Mizzen + Main, Mizzen + Main Dress Shirts, Product Review: Mizzen + Main Dress Shirts

800razors.com Challenges Boston Red Sox To Tweak Their Beards for "Movember"
800razors.com, the burn-free razor company, today challenges the World Series champion Boston Red Sox players to help stand up to cancer and show their support by turning playoff beards into Movember mustaches for the entire month of November.
Movember is a month-long event that raises awareness for testicular cancer, prostate cancer, and mental health issues impacting men. Men around the world are challenged to grow a mustache and show their solidarity for this important cause.
"Let's talk balls – testicles not baseballs", said Philip Masiello, President of 800razors.com and a die-hard Yankees fan. "The Boston Red Sox showed they had the balls to win the World Series. Now, I challenge this Red Sox team to show they have the balls to raise awareness for cancer. If 10 players accept my challenge, I will personally drive razors up to Boston and help them shave their beards into mustaches on Monday. If they keep their mustaches through the month of November, 800razors.com will make a donation to the Movember charity in their names."
Those that have survived prostate or testicular cancer are encouraged to share their stories at 800razors.com's Facebook Page to help raise awareness and encourage others to get checked. In addition, 800razors.com challenges other businesses to get involved by rallying together to grow mustaches, encourage check-ups for early detection and donate to the Movember cause.
Says Masiello, "I encourage all men to get an exam, go to a clinic, see their doctor, do a self-exam—do whatever it takes to stay healthy and remove the stigma associated with testicular and prostate cancer!"
About 800razors.com
800razors.com (www.800razors.com) is the burn-free razor company. 800razors.com sells American-made razors that compare to Fusion, Mach III and Venus for about half the price. 800razors.com ensures people get the best razor for the best shave at the best price or it will provide a full refund via its Burn-Free Guarantee – no skin burn, wallet burn, or American job-loss burn. Founded in 2012, 800razors.com is headquartered in Boca Raton, FL. For more information visit 800razors.com.
Why Should You Wear A Tie Bar? Because They're #Badass!
When you wear a suit and tie, you feel cool. It immediately steps your credibility up about 10 notches.
Babes notice. Dudes notice. Old people will tell you that you, "Remind them of their grandson."
But what if your suit really looks like shit? If it looks the way a moth ball smells? If it looks like you raided your grandfather's casket?
Accessorize, friend. Make the suit your own; improve the suit because you're wearing it.
We covered cuff links a couple weeks ago. A tie bar is the easiest thing to wear and apply; it's a clip you put on your tie.
As simple as it is, it makes you feel good and when you feel good, other people take notice.
YOU will be the guy who wears the tie bar.  And have the same effect Michael Jackson did in his video for "Billie Jean" leaving everything he touched better than when he found it.
As I stood in Arrowhead Stadium — section 125, row 33 — rocking the #83 jersey of Raiders legend Ted Hendricks, the last thing on my mind was the shave I enjoyed that morning courtesy of a razor from 800razors.com.
There I was, getting my sexuality questioned by endless Chiefs fans, in front of endless Chiefs fans in an assault befitting of Kansas City's league leading defense. But one thing that wasn't getting questioned was the closeness of the shave delivered via the five-0lade men's razor from 800razors.com.
Just like the Raiders, 800razors.com is anti-establishment. If the razor game were the AFC West, 800razors.com would be gunning for opposing pretty boy quarterbacks in Denver and San Diego. Sorry KC, outside of Joe Montana, you've never had one. From the company's site:
"Gillette — the monopoly-like gorilla of the razor industry — burns people with their outrageous prices, while the internet razor guys with the funny video burn people by importing crappy razors from Asia and screwing Americans out of jobs. 800razors.com ensures people get the best razor for the best shave at the best price or it will provide a full refund via its Burn-Free Guarantee — no skin burn, wallet burn, or American job-loss burn."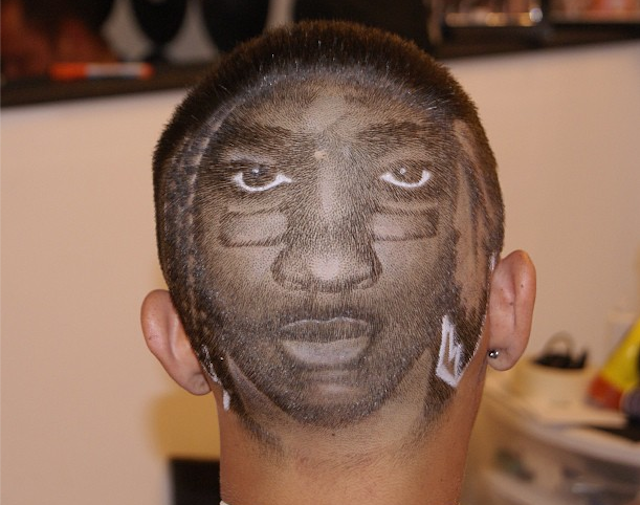 Feeling bad about relying on Redskins quarterback RGIII in fantasy this season? Don't worry, there's someone worse off than you.
This haircut was done by Illinois-based barber Jesus Cruz. "The (RG3) one is my best work so far," he said. "But I have not done my best work yet. I like a challenge." It took Cruz 2 1/2 hours to complete.
Based on his Instagram page, the RGIII isn't even close to the coolest haircut he has done; check out the Jack Nicholson portrait from The Shining.
Personally, I would've gone with the Joe Montana.
Bullz-Eye tackles Tough Mudder Lake Tahoe Degree DO:MORE Style!
There is no feeling on earth like sliding into the $125 robe in your room at the Ritz Carlton after spending six hours on the most difficult obstacle course in the world. Wait a minute, did someone say "Carlton"?  I thought they did.
This robe is the kind of robe Carlton would've rocked when he was on "Silver Spoons" with Ricky Schroeder. God, how I yearned to ride on that sweet in-house train, even just to go get the mail. Imagine me and the robe and the train. We'd run a train on the train; me, Carlton, the robe, Ricky… good times.
Sure, I thought about stealing the robe. Who wouldn't? But the minute I stepped foot off the premises, the magic would've been gone, like when a young Moonlight Graham steps over the foul line in "Field of Dreams" to be irrevocable transformed into Doc, the kindly doctor who removes a piece of hot dog from Kevin Costner's daughter's airway to save her life.
Anyway, I left the robe, and about a pound of ball skin, on the mountain that day, and lived to tell the tale.
Keeping it REAL klassy on the mountain…
But you know what I didn't leave on the mountain that day, friends? Sweat, or a stench of any kind. That's because Degree had my back, not unlike the way Chuck Norris had Jonathan Brandis' back in the movie "Sidekicks."
Degree allows you to DO: MORE with three levels of protection.
Posted in: Grooming, Hair Styles, Lifestyle, Old School, Shaving
Tags: Arctic Enema, Berlin Walls, Breaking Bad, Breaking Bad The Cousins, Cage Crawl, Carlton Banks, Chuck Norris, Corey Feldman, Degree, Degree Clinical Series, Degree DO:MORE, Degree Men Adrenaline Series, Degree Men Dry Protection, Electric Eel, Field of Dreams, Fresh Prince Of Bel Air, Jonathan Brandis, Kevin Costner, Liss Of Mud, Meatballs 4, Men's Deodorant, men's grooming, Moonligh Graham, Northstar Mountain, Rambo III, Ricky Schroeder, Ritz Carlton, Sidekicks Chuck Norris, Silver Spoons, Sylvester Stallone, Tough Mudder, Tough Mudder Lake Tahoe 2013, Train From Silver Spoons