Tom vs. Eli: Personal Style Edition
It's "Super Bowl Week", ladies and germs. And if I hear one more comparison between Eli Manning and Tom Brady, I'm going to vomit. So instead of comparing their playing styles, let's compare their hair and personal style.
While watching (sleeping) the Pro Bowl last night, half time consisted of a Bob Costas led interview with Tom Brady and then Eli Manning.
"Tom Terrific" looked dapper as ever, sporting perfectly coifed hair to match a perfect grey suit, accented with a black and white checkered dress shirt with a perfect black tie, tied into a perfect "Windsor" knot.  Eli, meanwhile, had all the charm of an orphan with his overgrown, "mussed" hair and a cheap faux fleece pullover that looked like a $15 one from Old Navy that I own. Eli seemed disoriented, while "Tommy Ballgame" answered every question the way you want your son to answer every question when he grows up, even if you don't have a son.
If the clash of wardrobes on Sunday night was any indication, the Patriots will roll.
Male Grooming- Now Huge In Korea
The numbers are in. And Korean men love their skin even more than Americans do. In 2010, Korean men spent 425.7 billion "won" on skincare products which was the most in the world and followed by China, Japan and the USA.
High ranking Korean politicians have also responded to the booming trend by making improvements of their own that are really funny to read about and visualize.
My favorite?
"Rep. Hong Joon-pyo became a target of gossip for his tattooed eyebrows several months ago."
Flacco's Facial Hair- Cooler If Tom Brady Wore It?
 m
Heading into Sunday's AFC championship which the Ravens would eventually lose, starting QB Joe Flacco had been catching a lot of "flak" about his moustache. Erroneously reported as a "Handlebar Moustache" by numerous NFL TV experts (Rollie Fingers had to be furious), Flacco was actually sporting a "Fu Manchu" during the Ravens playoff run.
As a man, it's important you know the difference. The "Fu Manchu", while similar to the "Handlebar" is different because the Fu Manchu is grown only from the upper lip, whilst the sides remain clean shaven.
So it begs the question- if Tom Brady started sporting one, would it suddenly become "cool"?
The Crew Cut Is Dead- But Why??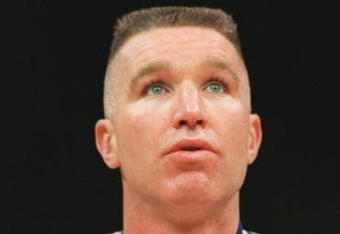 Who killed the Crew Cut? Was it Chris Mullin? Was it the military?
"I want answers! I want the truth!" "You can't handle the truth!"
Recently, Robert Pattinson got credit for sporting a Crew Cut, but since when is "high and tight" a Crew Cut? Uhh, since NEVER. My grandfather promply rolled over in his grave, uttered the word "Pansy's" and went back to sleep.
Wait- if a teeny bopper is sporting one, it can't be dead, right?? But if you're going to do it, please do it right. Now, pass the whiskey.
Product Review: "The Hangover" Recovery Shot
It won't help your hair, but it will sure help that thing underneath your hair, aka your BRAIN. You know, that thing that tells you it would be a "good idea" to drink all those $3 Jim Beam's on a weeknight. Or, tells you it would be a "good idea" to hit on that woman conducting the job interview. Nice work, jerk.
Even if you weren't drunk the night before, "Hangover Joe's" will get you into gear when "you need that extra push, over the cliff."