Quinn Puts The "Man" In Mannequin
If "Quinn" the AXE Mannequin can pick up a hot babe like Kendra thanks to AXE Body Spray, imagine what  you can do considering you have a heartbeat and a bank account, the two things women care about most, not necessarily in that order.
Quinn is kind of a stud though, with his perfect abs and chiseled facial features. So if you want to have any shot at keeping your girlfriend when he's around, load up on the AXE and spray in the areas detailed here.
2012 Ford Focus SEL Hatchback gallery
Our friends at Bullz-Eye got their hands on the 2012 Ford Focus SEL Hatchback to for a spin and a review. According to their early reports, you'll have to forget everything you know about the Ford Focus.
The test model has a sharp Kona Blue Metallic exterior and a charcoal black interior. Forget about everything you knew about the Focus as this "Detroit Star "was built from the bottom up and just about everything from the design to the 17 inch alloy wheels is eye catching.
They've also put together a gallery of this little five-door for your enjoyment. Head over to the Bullz-Eye Blog to check it out.
The Handle Bar Moustache- Can You "Handle" It, Ladies?
What's better than feeling a man's moustache rub against your cheek, ladies? What's better than its scent, its carefully crafted arc? It's what makes a man, a man, baby. And that's what you're after.
The "Handlebar Moustache" says, "Hey baby I'm rough and tough and build things made out of iron and use power tools, casually, but I've also got the savior faire and finesse of a young Tom Selleck- how far is your apartment from here?"
If you want to set the MLB all time save record when you grow up, here's how to groom your own "Handlebar".
Remember ladies, the "Handlebar" likes to tickle- and don't you like to be tickled??
Bullz-Eye checks out the Lambos and ladies in Frankfurt
The Frankfurt Motor Show is a sprawling affair, all about cars and concept vehicles. No auto show would be complete without a few gorgeous ladies to help draw some interest for the cars. The Lamborghini exhibit was certainly no exception. It not only showcased some of the most beautiful cars; Lamborghini had the good sense to have some beautiful Italian models standing with the supercars.
Once again, the guys at Bullz-Eye snapped some great shots of both the cars and the ladies. Be sure to head over to their gallery on the Bullz-Eye Blog for more pics like the one above. They have a gallery of 20 images for you to enjoy.
Posted in: Shop Talk
Tags: auto show babes, auto show hotties, auto show models, auto shows, automobile show, booth babe gallery, booth babe slideshow, booth babes, car show babes, car show booth babes, car show hotties, car show models, car shows, European auto shows, European automobile shows, European car shows, European motor shows, Frankfurt, Frankfurt Auto Show, Frankfurt automobiles, Frankfurt cars, Frankfurt Motor Show, girls and cars, girls at auto shows, girls at car shows, IAA, Lamborghini, Lamborghini Aventador, Lamborghini Gallardo, Lambos, LP570-4 Super Trofeo Stradale, motor shows, sexy girls and hot cars, supercars

Bullz-Eye hits the Triumph Factory Demo Tour
The guys at Bullz-Eye are getting their hands on more than just cars these days. They recently had the opportunity to attend the Triumph Factory Demo Tour, which is basically a riding day to help get new and re-envisioned bikes in front of motorcycle enthusiasts.
Here's a quick quote from one of the rides they went on:
The first ride out was at 9 a.m. Since I arrived early, I had the pick of the litter and chose a Triumph Thruxton. The Thruxton is one of three bikes in the retro modern line, which includes the base Bonneville, the Scrambler (vintage dirt bike design). The retro modern line showcases the designs of the past with modern mechanicals. The Thruxton shares mechanicals with the other two bikes with an 865cc, 68 horsepower parallel twin-cylinder motor. The Thruxton, being styled like a café racer, is arguably the most attractive of the triplets with its single passenger bullet seat, lower handlebars, bar-end mirrors, and more aggressive riding position. Going into the day, it was the bike I was most looking forward to riding.
For more about the Triumph line of bikes and the Factory Demo event, head over to the Bullz-Eye Blog.
Mazda unveils the new CX-5 at Frankfurt
Our friends at Bullz-Eye took a trip to the Frankfurt Motor Show last week, where they had a chance to glimpse the new Mazda CX-5. The CX-5 is set to be introduced progressively to global markets beginning early next year.
Bullz-Eye got some great pics of the sporty new SUV, and had this to share about the car's design:
As you can see from the photos above, the styling on this all-new crossover is sporty and aggressive. CX-5 becomes the first production model to feature Mazda's new design theme, "KODO – Soul of Motion." Chief Designer Masashi Nakayama explained: "With the CX-5, our focus was on expressing a strong sense of vitality and agility. We looked at videos of cheetahs; their agile footwork and how they use their entire body as a spring to accelerate rapidly and change the direction instantly. They emanate great energy throughout their entire body. Inspired by their efficient yet beautiful movements, we aimed to push the SUV appearance to new levels with KODO design language." The prominent front and rear fenders and sculptured body sides give the CX-5 a distinctive look, and we'll start seeing the new front grille and face of the vehicle showing up on other Mazda cars.
For more pics of the new Mazda CX-5, head over to the Bullz-Eye Blog.
Posted in: Shop Talk
Tags: 2011 Frankfurt Motor Show, car design, car design theme, car shows, compact crossover, crossover, crossover SUV, Frankfurt Auto Show, Frankfurt Motor Show, Hideaki Tanaka, Jim O'Sullivan, Kate Hudson, Masashi Nakayama, Mazda, Mazda CX-5, Mazda CX-5 Frankfurt, motor shows, Takashi Yamanouchi

The White Afro- Where Hath Thou Gone?
The man featured in the accompanying photo is none other than NFL badass running back John Riggins. A man who had some famously choice words for one Sandra Day O'Connor. If he could rock it, then where's the shame?
When was the last time you saw a really killer white afro? Yeah, I know, I can't remember either. So maybe we, me and you, should be that guy. Chicks love weirdoes, look at Phil Spector, Anthony Weiner and Scott Peterson.
Maybe you just don't know the steps to grooming one, perhaps. If that's the case, this dude seems to have a decent idea.
Whose Arm Is Stronger- Ryan Fitzpatrick Or His Beard??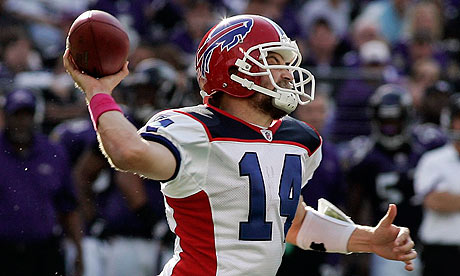 Ryan Fitzpatrick may be the most underrated QB in the entire NFL, but his beard is the undisputed #1 QB beard in the entire NFL. Last season, Fitzpatrick's beard almost got more notice than his production after he was inserted into the starting lineup prior to week four. Fitzpatrick went on to throw 23 TUDS over the next 13 games, and immediately improved a bad team.
With the start of the 2011 NFL season this weekend, Fitzpatrick has already started growing the 2011 version of the beard, no matter what his wife thinks about it. So while you may not ever be an NFL QB, you can at least grow a beard like one.
The "Bowl Cut": When Dudes Were Dudes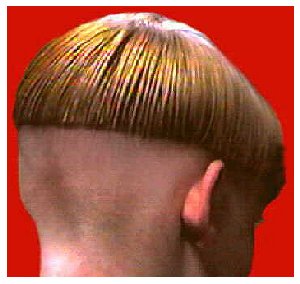 Ahhh, the "Bowl Cut". For a while there in the early 90's every dude I knew had one, and there was almost an unspoken hierarchy based on how yours was cut. The longer the hair on top was, and the more "skinned" the hair underneath was, the more "badass" it was. Hence the evolution from the "Bowl Cut" to the "Flop" that all the skaters rocked with their "Vision Street Wear" t-shirts.
Lately, celebrities from Lady Gaga and Rhianna have been sporting variations of the "Bowl Cut" which begs the ultimate question- Isn't Justin Bieber's "signature" hairdo nothing more than an overgrown, poorly maintained "Bowl Cut"?
2011 Honda CR-Z 3DR EX Navi Gallery
Bullz-Eye got hold of a new 2011 Honda CR-Z EX Navi. It's a great looking car, another addition to the small car market. Their test model is north shore blue with gray interior and boasts a 6-speed manual transmission including 3 driving modes of normal, sport and eco.
Check back later in the week for the full review of the car. In the meantime, enjoy the gallery over at the Bullz-Eye Blog.