White Guys With Cornrows: A Retrospective
It all started with a young Justin Timberlake and it looked ridiculous while it was happening. But since he had an afro prior, it almost went off without being noticed. Wisely, JT's management team never let him dabble in a popular black hairstyle ever again. And JT regrets it to this day, which is why I respect him.
Then, Kevin Federline entered our lives, impregnated Britney Spears and was GHOST. Then he ate them. Not the kids, the cornrows. Along with everything else in his house.  
Then David Beckham came in after everyone was desensitized. And no one cared.
If you Google "White Guys With Cornrows", then click on "News", you'll notice all results implicate the proprietor in a recent crime.
White guys, don't do it.
2011 Lexus GS 450H Gallery at Bullz-Eye
The guys at Bullz-Eye have another car in the test garage. This time they're driving the Lexus GS 450H. So far, they say "The Lexus GS 450h is a luxury sedan that has the power of a sports car and fuel efficiency we could only dream about until recently. Hybrid are now finding a place in upscale vehicles and we welcome that with open arms."
Check out the Lexus GS 450H Gallery at the Bullz-Eye Blog and stay tuned for Bullz-Eye's review.
2011 Nissan Cube gallery at Bullz-Eye
The boys at Bullz-Eye went sporty and funky driving the 2011 Nissan Cube 1.8S KROM in Caribbean Blue and put together a gallery of the car for you to check out. Here's what they had to say so far:
We love when auto companies think outside of the box and actually build a vehicle that's an original in it's own right. That's exactly what the folks at Nissan did when they brought us the Cube. Look for our full review in the coming weeks.
Be sure to check back soon for the full review and enjoy the gallery.
Kristin Cavallari Gone- "Hair Helmet" Next?
Fresh off of making possibly the greatest decision of his life, is it possible that another good decision is on deck for Jay Cutler as well? I'm talking about finally parting ways with his "Hair Helmet".
The "Hair Helmet" is definitely a regional cut, sort of like a "Hi-Top Fade" is to a urban area or a mullet is to Council Bluffs, Iowa. While there's nothing wrong with it, per say, it's dated and isn't meant for anyone living in an urban area like Chicago, especially in the summer time. And it just looks ridiculous. Like a woman with a cheap weave.
Seriously, you're not eight years old anymore and your mom isn't cutting your hair for free.  Even a faux-hawk would be an upgrade. Come one Jay, we "be-weave" in you!
The Chinstrap Beard – Perfect For Summer
There's just something weird about being completely unshaven in the summertime. On your face I mean, Wisenheimer.  So, how about "The Chinstrap"?  It says, "Hey I'm here, let's party ladies- Who wants a moustache burn??"
Because you don't want anything too heavy either, like a "Garibaldi" or "Chin Curtain". My friend Nick Wegman can grow one of these in 10 minutes. I, however, couldn't grow one in my entire life span. And I am forever jealous.
A variation on "The Chinstrap" is the "Rap Video Standard", popularized by the likes of R&B artist Jon B and "K-Fed" where the "Chinstrap" actually connects to the moustache and forms a goatee.
In the words of Beavis, "Damn we're smooth."
2011 Challenger Rally E gallery at Bullz-Eye
Bullz-Eye's currently putting the 2011 Dodge Challenger Rally E through its paces for an upcoming review. In the meantime, they've been kind enough to give us a gallery of this gorgeous car to drool over. For more pictures of the 2011 Dodge Challenger Rally E, head over to the Bullz-Eye Blog.
I was walking to the store the other day and I saw a kid around 18 years of age rocking a hi-top fade. And I was thrilled. The only thing he was missing was the Africa Medallion. But he did have on some oversized hi tops, so it all kind of worked.
Ever since then I've seen them more frequently; has my "Hi-top Awareness" just been heightened thanks to the experience?  Or are more people wearing them again? Since the 90's era of fashion is relevant again thanks to Kanye West, Brandon Jennings and Lady Gaga, I think the hi-top fade may be back. And it's about damn time if those stupid sunglasses with the horizontal plastic lines are.
For a quick tutorial and glimpse of several variations on the style, put the movie House Party at the top of your Netflix queue. Then, have your buddy cut one for you and set a trend in your neighborhood by following this tutorial.
Support your local Burning Man barber: Barber Ella
Love Burning Man? Love 60′s sci-fi? Love Jane Fonda? All hard things to deny. An ambitious group of Burning Man devotees have put together a plan to provide barber services at the legendary festival, but they need some help getting their shop together. They've started a Kickstarter fund to help with supplies, gear, and a few props to get the shop going. The hope is to make the Barber Ella Barber shop a staple of the Burning Man festival for years to come.
Here's a quick pitch from their Kickstarter page:
WHY WE NEED YOUR HELP

We were thrilled to learn recently that Burning Man is placing us in the bustling 9:00 plaza. Thus far, the Barber Ella campmates have put lots of hard work and creative energy into the project: a true labor of love. Now though, we're hoping to expand our budget to fit our exciting location — to turn our humble haircuttery into a shop that's shinier, sexier, and most importantly more accessible. Haircuts for all!

TO THANK YOU FOR YOUR DONATION…

We'll shave your name into people's hair. Well, that's just one of the appropriately out-there ways we have of saying we think you're awesome. Other options include sexy bandanas, gorgeous original posters, line-cutting privileges, and a spot on the "Mannequin of Patronage." Heck, you can have the mannequin named after you! Of course, we're looking forward to seeing all burners, backers and non-backers alike, in our styling chairs on the playa.
If you haven't used Kickstarter before, it allows supporters to pledge donations to help fund a startup. The startup only gets paid if it reaches the goal, so make sure you tell your friends about Barber Ella and help them get funded!
Bullz-Eye test drives the 2011 Hyundai Elantra
Bullz-Eye recently got behind the wheel of the 2011 Hyundai Elantra for a test drive. The brand has undergone some serious redesigns in the past couple years, and the new Elantra is a testament to that overhaul. The car features what Hyundai calls Fluidic Sculpture, a concept whose inspiration is pretty obvious when looking at the outside of the car. The car delivers a lot more than anyone could expect from such a modest sticker price.
Here's an excerpt from the review:
The interior of the Elantra was very impressive and comfortable. I took it on a two-hour trip on freeway and it had the comfort level you would expect from a mid-sized sedan. The interior has the bold design we've seen in other Hyundai models with cool curves in place of square edges, but the styling is a little more understated and elegant than what we found in the Sonata, particularly on the center-dash, which for me was more appealing.

The controls we also very easy to use and were rather intuitive. The model I tested had the premium package, so for an extra $2,000 it included a navigation system with a high-resolution 7" touch screen display, a rearview camera, a premium audio system with an external amp, automatic headlights, and proximity key entry with push-button start. It also included carpeted floor mats and an iPod cable, bringing the total price to $22,110, and incredible value for the overall package.
For the full 2011 Hyundai Elantra review, head over to the Bullz-Eye Cars channel.
Armpit Hair- What's The Status Quo?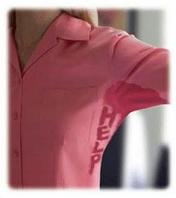 Unlike nose hair or neck hair, where less/none is best, what's up with arm pit hair? What are the rules of engagement?
For the ladies the answer is easy; NONE. EVER. Under any circumstances. Even if you got stranded like that rugby team in the movie Alive and there's no food around, don't make excuses ladies. Groom it.
Since it's theorized the reason it exists in the first place to reduce friction between the upper body and the arm during vigorous physical activity, dudes need it. Also, armpit hairs send and receive sexual pheromones. So trim your armpit hair, don't shave it. Or else your dense ass may miss out on the "vibe" that girl at the bar is sending your way.